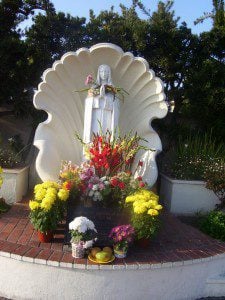 Sunday evening as Jan and I were driving along Ocean Boulevard in Long Beach (in California for those who live near other Long Beaches) we noticed the Mary shrine attached to the Sagely Monastery was particularly lovely, with flowers and candles already lit and maybe half a dozen people there offering prayers. It was all quite wonderful. I recall the first time we drove by that corner of Ocean and Redondo and saw what appeared to be a couple who were either East Asian or both of East Asian descent dressed formally in suit and a very nice dress giving a Buddhist style standing bow in front of the image. It left me wondering what was what.
It was hard to say if the building to which it was attached had originally been a mansion, like most of the buildings on that stretch of Ocean Boulevard, which looks unobscured across the street and over the bluff to the harbor. Startlingly beautiful. Or, I wondered, whether it had been a religious institution originally.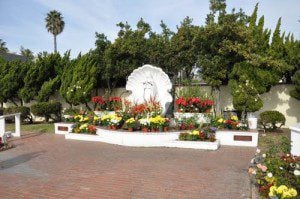 I kept meaning to look it up, and just have. Turns out the building originally served a Carmelite convent, a cloistered community of nuns informed by the mystical tradition of St Theresa of Avila and St John of the Cross. When the nuns decided to relocate to a less public area it was purchased by the City of Ten Thousand Buddhas, a very traditional Chinese Buddhist monastery.
Apparently the nuns requested that the shrine be kept intact. And from the official notice at the monastery's website, they immediately agreed, stating they saw Mary as the Western version of Quanyin. As good as their word, the monastery has kept the shrine in beautiful condition. And, today Christians and Buddhists both pay homage at the shrine. As I was digging around the web one commentator added in how as the image is Mary Star of the Sea, it includes a gigantic clamshell as a background, introducing a hint of another sacred feminine image, Aphrodite. It is enough to make a Jungian swoon…
While I'm not a Jungian (although some friends have called me a pseudo-jungian, I think they meant kindly), me, I love it. Love it!
If you're ever in Long Beach, you need to add this shrine to the archetype of compassion and love to your list of places to visit. Bring some flowers.