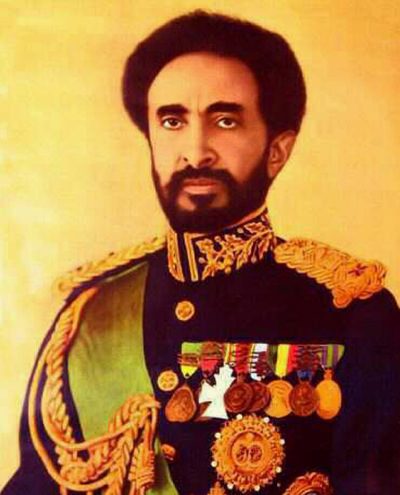 It was eighty-five years ago, on this day in 1930 Haile Selassie was crowned King of Kings, Lord of Lords, and Conquering Lion of the Tribe of Judah, or more simply as Emperor of Ethiopia at the Cathedral of St George in Addis Ababa.
The Wikipedia article on the Emperor tells us "The coronation was by all accounts 'a most splendid affair,' and it was attended by royals and dignitaries from all over the world. Among those in attendance were George V's son the Duke of Gloucester, Marshal Franchet d'Esperey of France, and the Prince of Udine representing the King of Italy. Emissaries from the United States, Egypt, Turkey, Sweden, Belgium, and Japan were also present. British author Evelyn Waugh was also present, penning a contemporary report on the event, and American travel lecturer Burton Holmes shot the only known film footage of the event. One newspaper report suggested that the celebration may have incurred a cost in excess of $3,000,000. Many of those in attendance received lavish gifts; in one instance, the Christian emperor even sent a gold-encased Bible to an American bishop who had not attended the coronation, but who had dedicated a prayer to the emperor on the day of the coronation."
And then there is the religion thing.
The emperor remained a life-long communicant of the Ethiopian Orthodox Tewahedo Church, a part of the non-Chalcedonian or Oriental Orthodox communion.
However he has come to be something more within the emergent Rastafarian faith. Marcus Garvey, a Jamaican native, born there in 1887, although he lived much of his life in the United States was in the early decades of the twentieth century a central leader in the American black self empowerment movement. Significantly, Garvey also advocated a return to Africa as an almost mystical ideal. And for many it would become a spiritual call. While he was not the founder of the movement, its actual Jamaican grassroots founders found within one of Garvey's speeches given in 1920, where he said "Look to Africa, when a black king shall be crowned, for the day of deliverance is at hand" predicted this moment in 1930.
It does seem the trigger moment for the coalescing of what we now know as the Rastafari movement. Today it has spread from its Jamaican origins around the world. Estimates of their numbers vary wildly, although it looks like there could be as many as a million people worldwide who in some manner identify with the faith.
And today, Crowning Day, is appropriately their traditional celebration of their founding.
So, to my Rasta friends, past, present, and future: best wishes to you all!
Jah Rastafari!