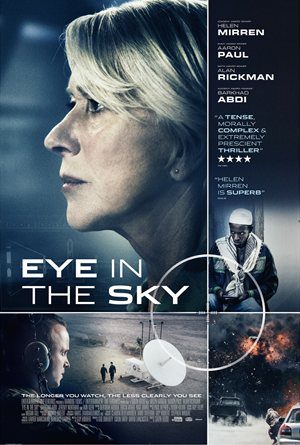 Yesterday Jan & I saw Eye in the Sky. Rotten Tomatoes' "critics consensus" tells us it is "As taut as it is timely, Eye in the Sky offers a powerfully acted – and unusually cerebral – spin on the modern wartime political thriller."
What we get is a morality play as political thriller.
One hundred, eighteen professional reviewers averaged 92% positive on Rotten Tomatoes, while 88% of the audience score liked it. I find both the extremely high positive numbers and that the professionals liked it better than the audience informative.
Guy Hibbert wrote the screenplay, and the film was directed by Gavin Hood.
An ensemble cast drives the action. Helen Mirren, Aaron Paul, Alan Rickman in what I think must be his last film, the scene stealing Barkhad Abdi, and pre-teen Aisha Takow playing the personification of "collateral damage," just head off a cast where everyone right down to each passerby seems real as real, and where each person's decisions contribute to the tension that seems to have no good resolution.
Film critic Joe Leydon describes how "razor-sharp editing by Megan Gill suitably amping the tension, and sharp lensing by Haris Zambarloukos effectively contrasting the chilly confines of the interiors and the menace in broad daylight of the exteriors. Production designer Johnny Breedt and special effects supervisor Mickey Kirsten further enhance the overall air credibility of the movie's depiction of high-tech searching and destroying."
While the focus of the action is an Al-Shabaab not so safe house in a tightly packed Nairobi neighborhood, the film cuts, powerfully, from England to the US to Singapore to Beijing, revealing, at least for me, how there is no escape, we're all caught up in this, as I said, a morality play, but one involving every one of us. Maybe this is the morality play…
The film kept reminding me of the third chapter in Bhagavad Gita, where everyone who thinks they are bound in a fratricidal civil war are in fact caught up in a cosmic play vastly beyond anyone's comprehension, and where the prince Arjuna is compelled not only by the consequences of his actions but by a force at play which is so much beyond him and the actions of the moment.
It is what I've never liked about the Gita. And I fear there is some deep truth about us that it sings to. As does this film. Free will and determinism are held up for us in a movie where every choice goes in a bad direction.
And, so, I'm slightly embarrassed at unabashedly recommending Eye in the Sky.
It holds up hard questions, beautifully, dreadfully. It asks us to consider what it means to be a human being, and yet it does not take us to some trite or easy conclusion. There is no tidy bow tying up the story.
And, yet, I came away feeling completely alive.
Go figure.