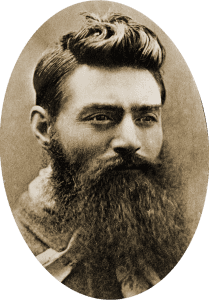 It was on this day in 1880 that Ned Kelley, an Australian bushranger, or outlaw who had in his life captured the public imagination as one unjustly persecuted and driven into outlawry was captured. The capture itself was momentous, as Kelly and his gang were dressed in home made armor. His associates were all killed, he was captured, was tried, convicted, and hung.
His last words are reputed to be, "Such is life."
I find some interesting parallels to the stores my grandmother told of the "James boys," who in her poor person's Missouri were seen as heroes who stood up against the banks and the railroads as oppressors.
Currents that no doubt are resonant in our own times.
For that matter Jesus' haunting observation, "the poor will always be with you" hangs in the dark recesses of my heart.
A terrible sadness. And makes me wonder about us as human beings.
Such is life…