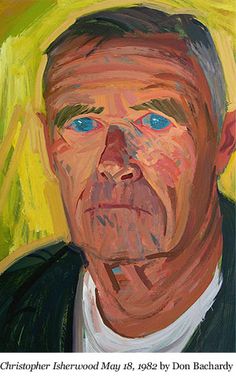 Christopher William Bradshaw Isherwood was born on this day in 1904 in Cheshire, England. He attended Cambridge, but left without a degree. He kicked around a bit, had a fitful attempt at studying medicine, and then moved to Berlin. Some of his experiences there would become the basis for his Berlin Stories, which would later be the basis for the film Cabaret. Eventually with his on and off again lover W. H. Auden he came to America, starting in New York, but then taking a Greyhound bus to Hollywood. There he taught at Cal State Los Angeles, and took up screenwriting. He became an American citizen in 1945.
Isherwood would become a celebrated writer, principally known as a novelist.
Always comfortable with himself, and frankly, protected first by his upper class status in England, and his celebrity in America, Isherwood was openly gay in an era when this was highly unusual, and frankly dangerous. In 1953 he met Don Bachardy, who was at the time a teenager. They would make it a lifetime relationship, settling in Santa Monica on the Los Angeles coast. Bachardy would eventually become a renowned artist in his own right. In later years, with their longtime public and loving relationship together with their individual accomplishments, they would become icons of possibility for many within the LGBTQ community.
And, as they say, that's not all.
Isherwood was most important to me personally as a spiritual writer. Through his long time friend Aldous Huxley, he was introduced to the mystic Gearld Heard, who in turn introduced Isherwood to
Vedanta
and specifically to the swami in charge of the
Vedanta Society
in Southern California, Swami Prabhavananda. Isherwood found his religion.
With the Swami, Isherwood translated several Hindu classics including a lovely and accessible version of the Bhagavad Gita, which would be the first version of that text I would read, a biography of of Sri Ramakrishna, Ramakrishna and his Disciples and his own spiritual autobiography, My Guru and His Disciple.
These later two books were important for me at the beginning of my spiritual quest all these years ago. I particularly owe a debt to his autobiography as it held up the possibility of crossing out of one's birth culture if that was what it took to find one's true path. An enormously important book for me at a particular moment. Enormously important.
So, what a pleasure to acknowledge Christopher Isherwood on the one hundred, twelfth anniversary of his birth.
One of the good ones…