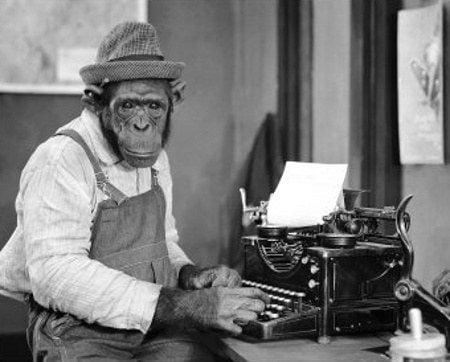 I find it hard to believe.
But, it was today in 2006 that I posted my first entry for Monkey Mind.
I was serving as parish minister of the First Unitarian Society in Newton, and while preparing for a sabbatical, my first, and as it turns out my only, a friend, I no longer recall who, but I am so grateful, suggested that a good way to keep up with the gang back home would be to start a blog. I was hesitant. And at the same time, intrigued.
People were using the interwebs to publish observation and opinion from pretty close to the creation of the interwebs, probably right after cat pictures and pornography. Apparently the first term applied to people making these offerings was "diarists." According to the Wikipedia article on blogging's history other liked the term "escriptionists." In December, 1997, Jorn Barger initiated the term "weblog" for this type of writing. In the Spring of 1999 Peter Merholz is credited with shortening it to the word we now use "blog."
After a period where blogs were mostly hosted in "rings" or were updates at websites blog hosting services began appear. It was learning about these that gave me the confidence to try it. One of the larger and generally respected of these services was Blogger. I liked two things about them. The first was that it was astonishingly easy to set up. I've never been particularly competent with computer technology – actually that's a gross overstatement. I have never gotten much more competent than learning how to turn the machine on. My principal way of fixing things is to turn the machine off and then turn it back on. Blogger handled most of the technical stuff in the deep programming. That, and it was free, gave me the platform.
Way back in January, 1989 when I began my parish internship at the First Unitarian Church of San Jose I was instructed I would be given a column in the church's newsletter and they wanted a name. I picked the Buddhist term "Monkey Mind," for the random jumping around picking and choosing description of our human minds. As I had continued to use that name for my newsletter column once I went on to actual parish ministry and as this was meant at first to be a way of keeping in touch with the congregation, well, it was pretty obvious what I should call the blog.
So, finally, on this day in 2006, I posted a poem by Gary Snyder. And that was it. I posted similar bits and pieces over the next few days, apparently thinking along the lines of a day book. Soon, however, I started adding in my reflections, which mainly took off as I began the sabbatical. I was offered a sabbatical position as the John Lester Young minister-in-residence at Meadville Lombard Theological School, and began to recount my adventures in the Windy City.
I looked to Chris Walton, an editor at the UU World who was at the time blogging as Philocrites as my first blogging mentor. There have been others, and I am grateful, but Chris was critical. His generosity and his mentioning of me at points in public venues helped people find my blog. From the beginning my subjects were eclectic. I stated my interests as religion, mostly Zen Buddhism and Unitarian Universalism, politics of a generally leftward tilt, and culture. Eventually the motto for the blog would become "easily distracted." Pretty much says it all.
Somewhere relatively early on I figured out how to add a picture to the blog. And not long after that how to include video clips. A picture and a music clip are pretty much standard for me now. Probably the most important thing for the success of the blog was that I determined to make it a near daily thing. In order to pull that off I quickly discovered the use of calendars, and most importantly that Wikipedia offers a listing of events and birthdays of people for any given day of the year. So, often my posts might be little more than an appreciation of someone whose birthday occurred on that particular day, or an event that captures my attention.
For example this day, the 5th of September is the birthday of Bishop Gregorio Aglipay, a Filipino revolutionary, Roman Catholic priest, and eventually the unitarian-informed founder of what would become the second largest denomination in the Philippines. For the last several years I've always posted a little something about him. It perfectly reflects recurring interests of mine, Anglicanism and the independent Sacramental movement.
I've also tried to offer something larger, what I call a "think piece" a minimum of once a week, and usually more. These turn principally on the subjects of Zen Buddhism and Unitarian Universalism, my deep and ongoing passions. And I think those are the subjects for which people visit me most often. But, I also do offer a rant every now and again on politics, particularly as we run up to national elections. And now, since my retirement, along with more frequent "think pieces," I've upped the number of reviews, well, actually the proper term is probably "appreciations" of movies, as well as the odd book now and again.
I haven't been able to shake the bad habit of tinkering with the post after I put it up. This one, for example, has sixteen "revisions" since it went up just a tad more than three hours ago. I suspect I average a bit more than a half dozen revisits for anything in the "think" area. Hopefully that's my worst habit in blogging.
In November of 2013 I contracted with Patheos to move Monkey Mind to their portal. And with that I turned pro. I can brag I now make enough money from blogging to purchase a dinner for two once a month, as long as the restaurant isn't too fancy, okay, you know with table service but not with table cloths, and so long as no alcohol is involved.
I've loved being with Patheos, who started up as a more "cerebral" alternative to Beliefnet. They categorize me as a Zen Buddhist blogger. Although I'm pleased that every listing for Unitarian Universalist bloggers also include me as one of theirs. Both are true.
Of course one thing I've learned right down to the bottom of my feet is that the Buddha was right. Well, he was right about a lot of things. But the one I'm thinking about is how everything composed of parts will come apart. Everything passes. Everything dies.
So, with that hint of mortality in the air, I am looking at my blog and happily feeling, not yet. Not yet.
I hope in one form or another Monkey Mind will be around for a while, yet. With my recent retirement from parish ministry I see that I'm putting even more energy into this project. So, who knows, maybe I'm even good for another decade? Which I understand in blogging years is pretty close to immortality.
We shall see.
But, in the meantime, thank you so much for reading my reflections, commenting now and then, and even more important "sharing" this blog with your friends…
Many thanks!