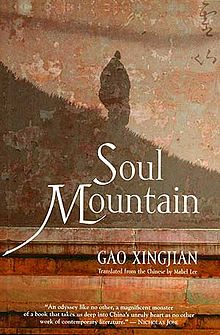 Last month sometime Jan and I found ourselves on our second, maybe it is our third trip up to Ojai. Ojai, if you are unfamiliar, is one of those places that flying saucers like to fuel. It's a day drive Sedonaesque experience from Los Angeles and home to many things, but probably most notably for its associations with Krishnamurti and Theosophy. Other than a visit to see the Liberal Catholic cathedral, a center for one of my favorite minority religions, we actually only go there to spend an hour or so at Bart's Books. My kind of flying saucer fueling station.
(I remain annoyed they don't have a public restroom. But, still, worth the trip…)
And, indeed, on that trip I found some fuel sufficient to take me to the stars…
Without looking for it, or, rather just looking, I stumbled upon Soul Mountain, a novel written by Gao Xingjian. It was written over some years starting in 1982 and finally finished in 1989. It was published the next year, then in a Swedish translation the year after that. Not much later it appeared in French. It sparked the international interest in Gao, who was awarded the Nobel Prize in literature in 2000 primarily, although not exclusively for this book. An English translation appeared that year.
It was this English version by Mabel Lee that I found on the shelves there at Bart's.
Now as most of my friends know my motto is one intellectual in the family is enough. And that intellectual is my spouse. While I read a lot, it is mostly in my "field," and I think of it sometimes as "graduate student" reading, or, on occasion, particularly if I'm writing something, "mining." While I have read literature at various times in my life, by which I mean those books that appear on must read lists, in my childhood I mainly devoured science fiction. I continue to credit it for opening my eyes to a world beyond the constraints of my childhood, which were many. And now, in my older years my relaxation reading has been almost exclusively mysteries. I do love my mysteries.
But, every once in a while for not completely conscious reasons I find myself dipping into something that is generally considered literature. And, there I was in standing Bart's stacks pulling this big tomb off the shelves with the tantalizing title "Soul Mountain." Turns out that's a reference to a semi-mythical mysterious sacred mountain, Lingshan – spirit or soul mountain.
The blurbs on the cover promised references to contemporary rural China and the words "Daoist" and "Buddhist" encounters. I bought it.
Oh, my, it was a read.
I'd call it a novel broadly in the picaresque genre. The contemporary review published in the New York Times tells us Soul Mountain's "81 chapters are an often bewildering and considerably uneven congeries of forms: vignettes, travel writing, ethnographic jottings, daydreams, nightmares, recollections, conversations, lists of dynasties and archeological artifacts, erotic encounters, legends, current history, folklore, political, social and ecological commentary, philosophical epigrams, vivid poetical evocation and much else."
The story is roughly inspired by Gao's experience of being diagnosed with lung cancer, the disease that killed his father, and then not long after being told, "Oops. No problem. From that Gao took off on a spiritual quest which, as I said, becomes this novel. It begins against the backdrop of contemporary China. But it doesn't precisely stay there.
It is fragmentary. It goes into strange directions, none of which are resolved. The characters are deeply personal. And, mere archetypes. The real and dream are indistinguishable.
Reminded me of my own spiritual path. Sort of…
When I wasn't annoyed, I found it compelling and, well, I just couldn't put it down.
A novel I commend it to anyone.