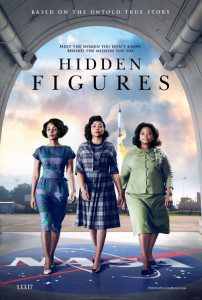 Jan and I, when possible, like to take in a movie on Sunday late afternoons and then go out to dinner. We seem to pull this off nearly three times a month. This Sunday we went to see Hidden Figures.
In his review of Hidden Figures, Peter Debruge, the chief film critic at Variety said, approvingly that this movie is "empowerment cinema." I looked around a bit and apparently Mr Debruge coined the phrase. I think he means by that term movies that uphold success in the face of adversity.
Now, while that term empowerment cinema has a bit of a whiff of condescension about it, I think he does identify a sub genre, and one that is often cloying or saccharine, some word like that. Not this one, Hidden Figures is a strong hit right out of the ball park. And I need to hasten to add Mr Debruge's review is itself strongly positive.
Writing at the New York Times, A. O. Scott reminds us "There is something to be said for a well-told tale with a clear moral and a satisfying emotional payoff." If not something one would want for a steady diet, I agree. And, if you do, as well, this is a movie for you.
Hidden Figures is the story of three African American women who were real players in sending John Glenn on his famous orbit around the earth. Katherine Johnson, played by Taraji P Henson, Dorothy Vaughan played by Octavia Spencer, and Mary Jackson, played by Janelle Monae are each brilliant mathematicians, and as I said women and African Americans, in 1961. Both those facts, women and African American mean a lot in that time and place. And if we're honest, today, as well. But these are particularly hard times, as many of us still recall. And, sadly, echoes of back lash from those times are still playing out, including it is hard not to notice in the recent presidential election. These are particularly apt times to reflect on that moment in our history. And, indeed, another current film from roughly the same time, Loving, is still in theaters.
I admit the structure of the film is prosaic, a pretty standard biopic. But, the story is amazing. And the people portrayed so lovingly in this movie are now engraved on my heart as true American heroes. Maya Wei-Hass wrote a really great article about the human "computers," women with major mathematical skills who preceded the advent of mechanical computers that you might want to read. It introduces us to the work of Margot Lee Shetterly who has been studying these women for years and wrote the book upon which the movie is based.
It is well past time these women have been given their due. And this movie does a lot to help this happen. The story moves directly along showing the private and professional lives of women of color in segregated Virginia facing amazing odds, and, and we sure need a little bit more of this, overcoming them all. So, yes, some of this is fiction. But, less than one might imagine.
Theodore Melfi and Allison Schroeder give a solid screenplay which Henson, Spencer and Monae (in a star turn, I want to add) all breath life into their characters with grace, beauty, and dignity. Solid supports from a cast that includes Kevin Costner, Mahershala Ali, and Jim Parsons who seems to be getting typecast as brilliant nerd. Oh, and Glen Powell's squeaky clean and totally admirable John Glenn is the cherry on top of the sundae.
The world in which this story takes place is not so far removed from where we live today both in time and in heart. A frisson of danger hangs around these women as they do their work and live their lives. There is a scary moment when their car breaks down and a police car pulls over. And even though we know John Glenn will make it, there were moments when I found myself gripping the arms of my seat and wondering if Glenn was going to blow up in a fiery ball. Many small and larger scenes giving power to the story. And, you know, I loved the strong men behind the strong women…
I loved this movie soup to nuts.
At Rotten Tomatoes ninety-three percent of the one hundred, thirty five professional reviewers liked the film and ninety-four percent of the near eight thousand regular viewers who offered an opinion gave it their thumbs up. So, professionals and the public alike are in agreement, one lovely, lovely movie.
Go see it. And, as a bonus, take kids. Lots of kids. They need it even more…