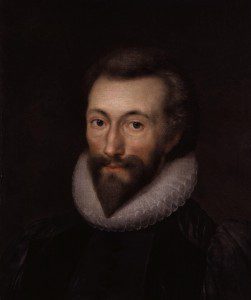 John Donne was born in London on the 22nd of January, 1573 and died on this day, the 31st of March, in 1631.
His family were recusant Roman Catholics. He studied at Cambridge but was not awarded a degree as he could not take the oath of supremacy, which included acknowledging the sovereign as head of the church. Donne then read the law, and was admitted to the bar.
Rather than take up a practice he traveled through Europe giving him the opportunity to master several modern languages. And then returned to England hoping to find employment in the diplomatic corps.
However he fell in love with Anne More, his employer's daughter and they secretly married. When this was discovered Donne was both fired and imprisoned. Finally freed he and his wife retired to the country where he practiced law. Finances were difficult. Perhaps not unconnected he and Anne had twelve children together. Ten survived infancy and seven to adulthood.
He was elected to parliament. While this position didn't pay, it gave him access just as his poetry began to attract notice. And he attracted a patron, Sir Robert Drury, who significantly eased his financial burden. Things began to fall into place for his life.
While Donne had years before rejected Catholicism he had not formally joined the Church of England. The king informed him that he would be welcome at court, but only if he took Holy Orders. Donne took this as evidence of a divine call, and fully embraced Anglicanism and was ordained a priest. He quickly received numerous preferments, including becoming Dean of St Paul's Cathedral in London. He would be remembered as an eloquent preacher and devoted churchman. The day his death would become a feast day within the Anglican calendar.
Of course we recall him as one of the principal metaphysical poets. Early in life a lot of his poetry had an erotic tinge to it, shall we say? But, as he matured his focus turned to the matters of the fully engaged heart, and he gave us some beautiful angles into the matters of the deep.
For instance:
No man is an island,
Entire of itself,
Every man is a piece of the continent,
A part of the main.
If a clod be washed away by the sea,
Europe is the less.
As well as if a promontory were.
As well as if a manor of thy friend's
Or of thine own were:
Any man's death diminishes me,
Because I am involved in mankind,
And therefore never send to know for whom the bell tolls;
It tolls for thee.
Pointing true. And, taking it all together, fully deserving that feast, I think.