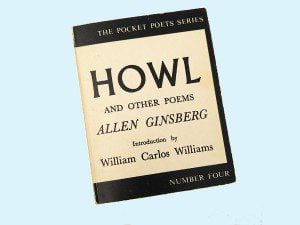 It was on this day in 1957 that US Customs seized a shipment of Allen Ginsberg's Howl and Other Poems.
The title poem Howl was purportedly largely written at the Caffe Mediterranean in Berkeley. A coffee house of some importance to me, the Mediterranean. In my teen years it offered me my first latte. and later when I worked across the street at Moe's Books, it was a comfortable place for a break and a cuppa and some very interesting conversations.
The poem took shape over several years. Ginsberg showed the first draft to Kenneth Rexroth who said it was too academic and to allow himself just to flow. He did. Inspired by the free flowing styles of William Carlos Williams and most of all by his friend Jack Kerouac he reworked the poem.
The Wikipedia article on the poem tells us "It is noted for relating stories and experiences of Ginsberg's friends and contemporaries, its tumbling, hallucinatory style, and the frank address of sexuality, specifically homosexuality, which subsequently provoked an obscenity trial. Although Ginsberg referred to many of his friends and acquaintances (including Neal Cassady, Jack Kerouac, William S. Burroughs, Peter Orlovsky, Lucien Carr, and Herbert Huncke), the primary emotional drive was his sympathy for Carl Solomon, to whom it was dedicated; he met Solomon in a mental institution and became friends with him."
Howl was first performed on the 7th of October, 1955, at the Six Galley in San Francisco. Again, quoting from Wikipedia the poet Michael McClure wrote of the poem and its official reception within the literary and intellectual community, "Ginsberg read on to the end of the poem, which left us standing in wonder, or cheering and wondering, but knowing at the deepest level that a barrier had been broken, that a human voice and body had been hurled against the harsh wall of America…"
With some additional material Howl was published in 1956 by Lawerence Ferlinghetti's City Lights Bookstore. It was immediately controversial. And as I noted above on this day, March 25th, 1957 five hundred copies being shipped by City Light's printer in London were seized by customs agents. Then on the 3rd of June, the store manager in San Francisco Shigeyoshi Murao was arrested for selling obscene materials. Soon after Ferlinghetti was arrested.
In the ensuing trail the judge Clayon Horn found for the defendants, rejecting the charges and asserting the poem indeed was of "redeeming social importance." For good and, yes, for ill something powerful was birthing. And this poem was much of the background to that moment.
Howl was a critical part of the surge of human celebration that erupted soon after as that magical time and place that was San Francisco's fabled 1960s. And for me specifically it was part of the emerging literature of personal liberation that would be a current in my own opening to my heart and allow me to walk more fully on the great way.
Holy, holy, holy!