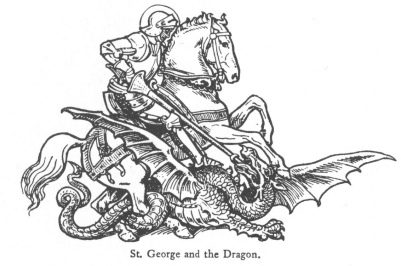 As it happens today is the Feast of St George. I've always been suspicious of the original story. However, thanks to the scholarly investigations of Stan Washburn, we have access to what really happened in those days of yore when the dragon and George walked this good earth. Sadly, this study has been long supressed (okay, out of print). But, thanks to my own relentless digging around the web, I've found the text, nearly complete. I reprinted it back in 2011. I was hoping the book would be reprinted. Sadly, it has not. Although today I looked around and saw you can obtain a used copy at Abebooks.com or Amazon. And, I do encourage the entrepid to seek out a copy of the original book, published as The True Account of the Death by Violence of George's Dragon. It was published with twenty illustrated plates after etchings by the author. I guarantee it well worth the effort to find your own copy…
However, it is so important for those wishing to know the truth around the ancient event, here is the bare text, even though they do point out a book without a picture is like a kiss without a hug…
The True Account of the Death by Violence of George's Dragon
Stan Washburn
At one time the depredations of manticores were such that people scarcely dared stir from their homes.
The manticores grew bold, until any whom duty drove abroad whether clergy or laity, was sure to fall victim to the odious creatures. The Duke (this part of text lost) the army.
The General, who owed his rank to an indiscretion on the part of his mother and the late duke rather than to any warlike inclinations, declined to lead the army against the manticores.
But an itinerant dragon passing by chance, killed, for his own amusement, some manticores which he saw in the palace garden. The Duke invited him to dinner.
That very evening the Duke took advantage of a quiet moment to offer the dragon an attractive stipend in return for his services.
Each morning the dragon was received in the ducal breakfast nook. The duchess put up his luncheon hamper with her own hand.
The Duchess was kind enough to include a gargle in the dragons hamper, so that the aftertaste of manticore should not sully his palate.
The Dragon was very effective. The surviving manticores fled to the hinterland and life began to return to normal.
The lessening of the menace determined the Duke upon a reduction of the military establishment. The expostulations of the General Staff were unavailing.
For spite, the General Staff hired a soldier named George to kill the dragon.
The Dragon passed his evenings at cards and chess. Often he would have a tankard of rum and water with honey and cloves, called a "Maiden".
George picked a fight over cards.
The Duke, who disliked George, ruled that murder had been committed. Leafing through the tormentor's catalogue, he settled on having George skinned and rolled in salt.
Seeking to rejuvenate the tourist trade by attracting free-spending pilgrims the Bishop petitioned for the Dragon's canonization.
But the bribes necessary to promote the canonization of a pagan dragon were so exhorbitant that the abbot suggested canonizing George instead, as an economy.
Reminiscences of the dragon were popular. The tapman told how the dragon would have a "Maiden" every day.
This was bound to be misinterpreted.
Soon the city teemed with tourists demanding mementos of the killer Dragon who had had a maiden every day.
As a practical man of business, the Duke saw no point in setting the record straight. He commissioned monuments reflecting the popular taste.
Thus the true story ends…
And, okay, here's another true version…