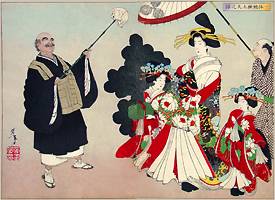 In the Western Zen scene today words like enlightenment, kensho, and satori have been pushed to the background. Any emphasis on the experience of awakening has been minimized. There are reasons for this. And I think some of them are legitimate.
However, that acknowledged, the great project of Zen is nothing less than awakening. And, sliding over that, shifting the point to something else, is making a terrible mistake.
The Eighteenth century Japanese Rinzai master Hakuin Ekaku was blunt about just how important the project is. He stated, "If you don't have the eye of kensho, it is impossible for you to use a single drop of the Buddha's wisdom. These people are heading straight for the realms of hell."
As to Zen teachers, he added, "That is why I say: if upon becoming a Buddhist monk you do not penetrate the Buddha's truth, you should turn in your black robe, give back all the donations you have received, and revert to being a layperson." (I don't want to go into our Western debate over lay and ordained practice here. The monk was writing at a time when lay teaching was an anomaly. I myself would rephrase that to say "If upon become a Zen student you do not penetrate the Buddha's truth, you should surrender any claims to being a teacher…")
Of course we have a bit of a history around our Western encounters with Zen and awakening. And it helps to know a bit of it. The first person to write in English on Zen, D. T. Suzuki, gave considerable emphasis to awakening. It is in fact what attracted people to Zen. Then, after the voluminous writings of D. T. Suzuki, the first real popularizer of Zen (through a gloss on Suzuki's work) by Alan Watts drove that point home. Awakening was the central thing. So, both, particularly Suzuki clearly described something extremely important about Zen. Suzuki completely got what Hakuin was pointing to. The project of Zen is awakening.
However, there was a problem with both Suzuki and Watts. There are other central points in Zen. Two to be exact. And their presentations were over balanced in the direction of awakening. When they didn't simply ignore it, they didn't properly balance those other critical aspects of the whole Zen way. As I started, awakening is one third of Zen's way. Zen's meditative practices and the moral container are the other two.
For English speakers Three Pillars of Zen corrected the practice part. It contextualized it within meditation and particularly koan introspection. It still missed that other element, which would contribute to much hurt in our emerging Zen communities. But, it made a major contribution in bringing awakening and practice to the fore.
The book was edited by Philip Kapleau, later Roshi Kapleau, with major assists from Koun Yamada, and Jiun Kubota (both eventually also roshis and succeeding heads of the Sanbo Kyodan Zen community). Consisting of two major parts, the first was principally lectures on Zen practice by the teacher Hakuun Yasutani Roshi; and the second part personal accounts of contemporary kensho experiences.
I remember reading this book and particularly savoring the last parts over and over again. Today I blush as I recall Zen teacher Brad Warner's dry comment on sorts of things like "Zen porn." There are problems with a single minded focus on the matter of awakening as an experience.
Today it has become a popular pastime among some Zen teachers to denounce The Three Pillars. The principal reason for this are those kensho descriptions. I will return to why that is a terrible mistake.
But, there is no doubt the Three Pillars did contribute to Zen's problems even as it made an enormous contribution. Influential twentieth-century Zen priest and teacher Joko Beck, who trained in a koan school with emphasis on awakening, offered a countervailing view to any single minded emphasis on awakening.
She saw the shadows of such an over-emphasis on satori. Particularly she saw how one could have these insights and still act inappropriately, causing great harm. As she became an independent teacher, she famously would characterize people's reports of kenshos as "small intimations." She would open a more psychological approach that has largely been a wonderful gift to Zen taking its Western shape. Although that clear focus on precepts would not yet be added in properly.
As it happened this minimizing of kensho was also the general stance within the Soto school. In a delightful illustration of this Huston Smith tells of visiting the "other Suzuki," the renowned Shunryu Suzuki Roshi:
When, four months before his death, I had the opportunity to ask him why satori didn't figure in his book, his wife leaned toward me and whispered impishly, "It's because he hasn't had it"; whereupon the Roshi batted his fan at her in mock consternation and with finger to his lips hissed, "Shhhh! Don't tell him!'"When our laughter had subsided, he said simply, "It's not that satori is unimportant, but it's not the part of Zen that needs to be stressed."
In fact others practicing within the Soto school would go much farther, denying the experience itself or denigrating it or its pursuit as nothing but a "gaining thought," another dualistic trap.
Frankly, while the desire for awakening is indeed a gaining thought, it is itself simply one side of a larger perspective, the mind of awakening itself. That desire, that urge, when properly channeled, becomes the mind of the Buddha. How we use this impulse to go beyond the impulse rather than get trapped in stories is the work of Zen in all its schools.
So, in a reaction to D. T. Suzuki's many writings, and in particular the focus found in that first book on Zen practice the Three Pillars a baby was thrown out with the bath water. Zen without awakening is a hobbled eagle. I suggest if we want Zen to be more than a mindfulness practice that will get us an edge in whatever project we want an edge in, we need to reclaim awakening as the central purpose of the project.
Zen is a spiritual process completely bound up with the actual world; it is not meant to be a philosophy. Nor is it psychology. It is about our awakening. And when awakening is brought together with our practices and the precepts, we begin to see the contours of what Zen actually offers to the world.
A healing balm, a refuge, our true home.
Nothing less…