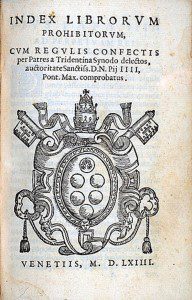 It was fifty-one years ago today the the Vatican announced it had abolished the Index Librorum Prohibitorum, the Index of Prohibited Books. The Index can be traced, at least spiritually to the 9th century and the Decretum Glassianum. And, as the book we know and love since 1559. It would go through twenty editions, the last in 1948.
It would come to an end on the 14th of Jun, 1966, when Pope Paul VI abolished publishing an official list of books that the faithful should not read. A fairly quiet end to a text book example of what I believe my Catholic friends call an "objective evil."
For those interested, here is a listing of the various books that have been included on that noxious document.