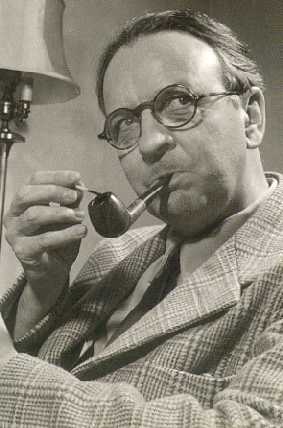 The immortal Raymond Chandler was born in Chicago, on this day, the 23rd of July, in 1888.
He spent much of his childhood and youth in England. After passing on going to University, he worked briefly for the Admiralty, then as a journalist for the Daily Express and then the Bristol Western Gazette. Chandler returned to the land of his birth in 1912, ending up in Los Angeles.
He fought with the Canadians during the First World War. With the end of the war he returned to L.A.
There he began an affair with Pearl Eugenie Pascal, "Cissy." His mother didn't approve in part as Cissy was still married when they had met, although she divorced not long after she and Chandler began their affair.
Sensitive to his mother's feelings Chandler refrained from marrying Cissy until after her death in 1923. They married in 1924. He knew she was older than him, but during his lifetime he was never aware she was in fact eighteen years his senior.
Chandler worked as a bookkeeper and auditor and eventually became a vice-president at the Dabny Oil Syndicate. Between absenteeism, blatant promiscuity, and running through everything, his alcoholism, he finally was fired. Unemployed in the midst of the Great Depression Chandler turned to writing.
Raymond Chandler's first story was published in 1933. His first novel, featuring Philip Marlowe, the Big Sleep, was published in 1939. His second novel, Farewell My Lovely, would eventually become three movies. And with this his career was assured.
He and Cissy preferred furnished apartments and houses to owning and moved frequently. Although they finally settled in La Jolla, a San Diego suburb. As she aged their age difference must have become awkwardly obvious. But, apparently nothing was said. Cissy died in 1954.
According to Wikipedia:
After Cissy's death, Chandler's loneliness worsened his propensity for clinical depression; he returned to drinking alcohol, never quitting it for long, and the quality and quantity of his writing suffered. In 1955, he attempted suicide. In The Long Embrace: Raymond Chandler and the Woman He Loved, Judith Freeman says it was "a cry for help," given that he called the police beforehand, saying he planned to kill himself. Chandler's personal and professional life were both helped and complicated by the women to whom he was attracted—notably Helga Greene, his literary agent; Jean Fracasse, his secretary; Sonia Orwell (George Orwell's widow); and Natasha Spender (Stephen Spender's wife), the last two of whom assumed Chandler to be a repressed homosexual.
Who knows for certain? His writings were, along with other prejudices on display, casually homophobic. But if anyone would have an educated view on this, it certainly would be Natasha.
He and Dashiell Hammett and a handful of others developed the hardboiled detective. What Chandler gave us in his six books and handful of short stories is L.A. Noire. Jonah Raskin writing for Boom Magazine (and reprinted at the Artbound page for KCET, tells us:
Today, a whole new school of Southern California detective fiction has pushed Chandler to the sidelines. The newcomers include Walter Mosley, James Ellroy, and Michael Connelly, the creator of Los Angeles Police Department Detective Hieronymus "Harry" Bosch and criminal defense attorney Mickey Haller.
In the company of Bosch and Haller, Chandler's Marlowe is an odd fellow. Granted, once upon a time he worked in the district attorney's office, and he knows cops he can turn to for information — but Marlowe's not a company man nor a cog in a law enforcement machine, and he'd never work for the LAPD, just as Sam Spade would never accept a job, however well paid, with the San Francisco Police Department. For Hammett and Chandler, cops belong to the criminal injustice system. They never solve mysteries or apprehend killers, blackmailers, or thieves, although they're persistent and enduring and won't simply up and disappear.
Don't get me wrong. I truly love Michael Connelly, Bosch and Haller. But, Chandler is the godfather of them all. There is a reason, well, a number, that Chandler has entered the canon and the Library of America.
My friend the storyteller and Zen teacher Rafe Martin observes, "Alas for some of the dated prejudices sprinkled through the voice of the slumming angel." Then he adds. "But what a writer!" That lovely line about slumming angels echoes and adds nuance to Ross McDonald, who flatly declared Chandler "wrote like a slumming angel." With all the flaws and shortcomings his books are wonderful. And they have stood, at least so far, the tests of time.
Me, I hope he continues to be read.
Raymond Chandler died in 1959, his reputation as a major literary figure secured. He was brilliant. He pretty much invented the hard boiled detective.
And, his Los Angeles. Oh my. His Los Angeles lives on…
Me, I love Mr Chandler. I am an enormous fan. I love his Los Angeles. And for one, I celebrate his memory…