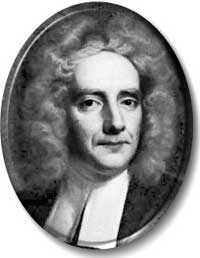 Samuel Clarke was born in Norwich, in Great Britain on this day, the 11th of October, 1675.
He attended Cambridge where he fell under the influence of Newton's natural philosophy. Professionally Clarke was ordained an Anglican priest and held various positions within the Church. As a philosopher he is considered to hold a position in the development of English philosophy between John Locke and George Berkeley. So, an important if transitional figure.
When Newton died he was offered his position as master of the mint, which provided a significant income. But he declined the opportunity, preferring the parish life.
In theology he stood between classic Trinitarianism and a rapidly evolving Unitarianism. For me he's of particular interest for his notes on the Book of Common Prayer, which would lead to Theophilus Lindsey's Book of Common Prayer Reformed According to the Plan of the Late Dr Samuel Clarke, which would become the first English language Unitarian liturgy.