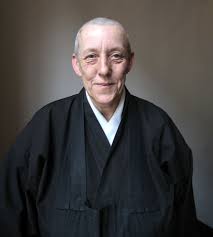 I only met her once. But, I've admired her for ages.
And now I've learned that this past Friday evening Jana Junsei Drakka Sensei died. She'd just turned sixty-five. She had been suffering from lung cancer, and had been in hospice since late July.
Junsei Sensei was a street priest, one of the first American Zen priests to take our ministry to the homeless.
Junsei spent her Zen life ministering to the lost and left behind. Her ministry, called by many the "Zendo without walls" brought her to homeless shelters, hospices, and low-income hotels, and especially SROs, "single occupancy residences." She tended to people, she accompanied them. At the peak she was leading five different sitting groups for homeless people. Along the way she conducted more than a hundred memorials for individuals who had been occupying those dreary single occupancy units in the poorest parts of San Francisco. And, yes, there are poorest parts.
A Scottish native Junsei first kicked around Europe and then settled in America. After a disastrous affair she found herself homeless. And then found as part of that a calling to honestly explore her own life, to fully own who she was, and from there to act as best she could in this world.
At forty Junsei entered the San Francisco Zen Center. There she trained. She ordained in 2001 and in 2009 received Dharma transmission from the equally remarkable Blanche Zenkei Hartman Roshi.
I find Junsei Sensei one of those people who tell us what it is we can be. An out lesbian, someone who smoked way too many cigarets and lived a bit too hard, she liked to comment that she was glad she came to Zen a bit later in life, so she had lots of living under her belt before the monastery. And with everything that she brought to the project, rejecting nothing, but with that becoming something new, she became someone who reveals a critical aspect of the Zen way, of the dharma of presence.
(For some more, look here and here.)
She showed us how we can be we who we are and how that can in fact be enough.
Endless bows.