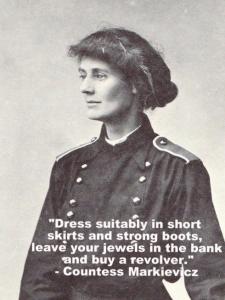 As I often do, I was looking through Google's what happened on a given date for today, the 28th of November.
There I saw that it was on this day that Nancy Witcher Langhorne Astor, the Countess Astor was the first woman to take a seat as a member of Great Britain's Parliament. Looking at her I notice she wasn't a particularly attractive person. Look her up if you want more. I don't particularly feel the need to provide a link.
However, me, I also noticed there was a sort of asterisk attached to this event.
In fact the first woman elected to Parliament was Constance Georgine Markievicz, born Gore-Booth into an Anglo-Irish family in 1868, and was elected to the Parliament a year before Lady Astor, in 1918. She declined to take her seat, and thus is not included as the actual first woman to become a member of the English Parliament.
Following the links I saw here was a person to recall.
Constance Markievicz was an active participant in the famous Easter Rising of 1916. Prior to the event she helped with such things as designing a uniform and composing its anthem. During the fighting she took up arms and fought beside her male compatriots. After the Rising's collapse she was courtmartialed, convicted of treason, and sentenced to death by firing squad.
However, her death sentence was commuted to life in prison "solely and only on account of her sex." At the time she told the court "I do wish your lot had the decency to shoot me."
After a year and a half in prison she was released with others under a general amnesty. Then, in 1918, while now in prison for protesting conscription, the countess was elected to Parliament. She refused the oath and was not seated. Instead she was seated in Ireland's revolutionary First Dail, where she served as minister for Labour. She was elected two more times.
She would later be involved in the Civil War where she was an active combatant on the Republican side. In 1927 she was elected to the 5th Dail, but died before she could take her seat.
Seán O'Casey said of Constance Markievicz, "One thing she had in abundance—physical courage; with that she was clothed as with a garment." No doubt, that. An amazing and formidable figure.
Worth recalling…