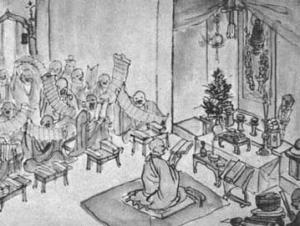 Boundless Way Zen has just published the fourth edition of its liturgy.
I'm incredibly impressed with this book. In many ways it is a contemporary American equivalent to the 17th century Chan Whip Anthology compiled by Master Zhuhong.
The master behind the Boundless Way Zen Sutra Book, Josh Bartok, has collected and edited ninety pages of brief texts that are equally of interest to the beginner and the adept. Like that earlier volume this new book is a genuine companion to our practice.
This new edition o the BoWZ Sutra Book is 90 pages long. And pretty much every page invites us to explore our tradition, to reflect on this amazing gift that is the authentic Zen way, and hopefully inspire us in our practice.
This book gleans wisdom from the entire Zen tradition, ancient and modern. And with some focus particular important for us in our time and place.
As the announcement for the Sutra Book tells us "There are pieces from two contemporary Zen Teachers of Color: angel Kyodo williams, and Zenju Earthlyn Manuel. There a piece from Daehaeng Sunim, a contemporary and influential Korean Seon master. We've added a poem from Wendy Egyoku Nakao, Abbot of the Zen Center of Los Angeles, and a additional piece from Joan Tollifson, as well as a resonant piece by Rebecca Solnit. These join the pieces written by women in the previous edition, Awakening from Discouragement (by Tollifson), The Ship of Compassion (by Miaoshi) and Spring Everywhere (by Shundo Aoyama)."
These and so much more. An amazing document. And available at no cost. I heartily recommend this to all seekers of wisdom and especially those who've given their hearts and bodies to the great Zen way.
For the whole text: