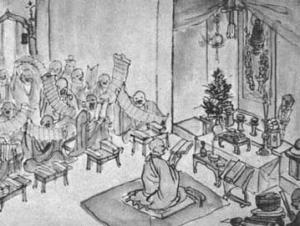 The note following at the end of this reflection was sent out on the Boundless Way Zen list today.
Upon receiving this one of my so-called friends wrote and asked "Is this just a difference in emerging emphasis, or do they feel you're going off the deep end, or, conversely, becoming "soft" and "sugary" (words used to depict any Roshi who is still teaching beyond their 60's, according to Philip Kapleau's excellent article "Sensei and Roshi"). Or is it more "sheesh, we can't let him out for a minute before he's doing something crazy…?"
Probably a bit of all three.
Actually, it is more about my personal path and the opportunities that have presented since Jan & I retired and moved to Long Beach, California. My practice for the past decade has been ever increasing integration of the various parts of my life. And this is the latest in those iterations.
My heart can never be separated from the Boundless Way project. Some of my deepest relationships are with people within that community. Period.
And in 1969 I ordained a Soto priest. Two years later I received denkai and denbo in the Soto tradition. I was, if I recall correctly, twenty-two. I was in no way ready to assume teaching responsibilities. And, frankly, my teacher was more than a little problematic.
So, I began a pilgrimage.
It included becoming a Unitarian Universalist minister. And, a living thread connecting my life and the great matter was koan introspection. As I completed the formal part of that training and while I was fully engaged as a UU minister I was blessed with stumbling upon the little band that joined together to create Boundless Way.
But, as I began to approach retirement I saw that I needed to return to my Soto roots, and specifically to explore what that ordination meant within a Soto context and how I could best be of service.
I was invited to join the Soto Zen Buddhist Association board. Where I was privileged to be part of the conversation that hopes to find a broad definition for Soto Zen ordination here in North America and the west. It is hardly a done deal. But, we did some important, if in some circles controversial work in service to that project.
Three years was enough for me and that specific aspect of the project. The sands are running pretty fast and I needed to turn to more immediate and intimate concerns.
I've come to feel the ordained path has three aspects to it. The first is a connection to something mysterious and ancient. It has its roots in Buddhist Vinaya ordination. But it has become something else. Actually part of the problem is that it is quite dynamic in Japan where it birthed, and what it is exactly is not actually clear even there. It has something to do with monasticism, but it mostly involves people who are married, or, if not, not bound by celibacy. It also has some elements of ministry as we understand that term in the west. Although that remains more important here than in Japan. And, it includes a priestly function, the celebration of various rituals on behalf of the community. Something I've not paid much attention to, but I am increasingly finding important.
For me at this point in my life, the central element of my practice continues to be zazen and the Reformed Soto Zen koan curriculum developed by the great Daiun Sogaku Harada and continued in several streams. Just like one will find at Boundless Way.
But I am now here in SoCal also collaborating with a priest who trained nearly entirely in Japan and another priest who is Japanese. So perhaps of course the particular flavor and various aspects that differentiate Soto from other forms of Zen have particularly captured my attention.
And with that Blue Cliff Zen, our little project out here in Long Beach, while in many ways consonant with BoWZ and its mission, has enough difference to it that it seemed time for me to retire form leadership responsibilities there and to devote my focus to this new project that includes a deepening of what it might mean to be a Soto Zen priest in North America.
All very exciting. And a little daunting.
I hope you will keep me and this project in your hearts.
Many bows,
Myoun
The Rev'd James Myoun Ford
The letter:
Dear All,
We are writing this letter to the Boundless Way Zen membership to announce the retirement of our founding abbot James Myoun Ford from the BoWZ Guiding Teachers Council, and his impending designation as Guiding Teacher Emeritus as of June 30, 2018. This shift in role will allow him to retain his heart affiliation with BoWZ while stepping back from active engagement with day-to-day decisions.
On January 27 at 4 PM at the Boundless Way Temple in Worcester, James will join us to commemorate his retirement and reflect on what this change means for all of us. We will have a potluck dinner and discussion. Please join us if you can.
James and his wife Jan Seymour-Ford, who has been a senior dharma teacher in Boundless Way Zen, retired from their professional work two and a half years ago and returned to their native California where they have started a Zen sitting group called Blue Cliff. Among the people with whom they have been working are a Japanese Soto priest and a Japanese-trained Soto priest, and their collaboration has taken on a flavor that is more "independent Soto" than "Boundless Way." While Jan and James's personal ties to BoWZ are unbreakable, it is clear the group out in California isn't properly a BoWZ affiliate.
We have been in conversation for some time about how best to address the differences in focus between BoWZ and Blue Cliff and feel at this time it is wise to allow Blue Cliff to independently explore how it can best manifest in service to its emerging community. As Guiding Teacher Emeritus, James will be free to devote himself entirely to this new collaborative project and to support the new practice forms that are emerging there.
James and Jan both expect to visit New England on occasion, and expect to participate in various BoWZ activities as life allows. And of course, visitors from the East are welcome to attend Blue Cliff and see the deep DNA of Boundless Way woven into the Soto practice forms of the Blue Cliff collaboration.
We are excited to live into this new relationship with James – to continue to nurture our deep Dharma friendship and to support his new collaborations in California. James Myoun Ford's great vision, wisdom, and heart will continue to express themselves in our practice, one bow at a time.
Melissa Blacker, BoWZ Abbot
Michael Fieleke, BoWZ Leadership Council President
Oh, and if you're interested, Blue Cliff, our project here in SoCal has announced its first sesshin.