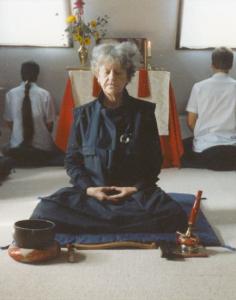 My friend the old Zen hand Stephen Slottow while researching for something else stumbled on a lovely archive of materials by and about Brigitte D'Orschy. He shared it with me.
A German national, D'Ortschy was an architect, journalist, and translator. And, more importantly from my perspective, a Zen teacher, a lay master in the
Sanbo Zen
sangha.
Sadly, she is not well known here in North America. I would like to help change that.
And so here is that amazing archive of Roshi Brigitte D'Ortschy's talks, essays, letters, and photographs. Some good Zen teaching. And some internal criticism of the forming Sanbo Zen lineage. While I'm more interested in the Zen teaching, the historical footnotes have their own importance.
And, as a small bonus for those who speak German, here the Roshi gives a talk on the Blue Cliff Record.