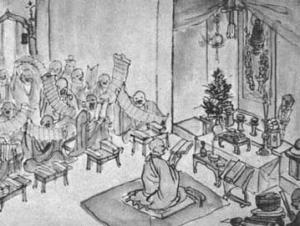 Our Blue Cliff Zen Sangha is reviewing its liturgical practices, wishing to align a little more closely with the normative practices of the larger North American Soto community. It turns out while the liturgical forms themselves are relatively standardized, as are the basic texts, the translations of these texts are not.
There are some anchor documents. Of those texts the Heart Sutra in both English and Japanese versions, as are the Song of the Jewel Mirror Awareness, and the Identity of Relative and Absolute. And with them there are three dharanis the Daihishin, the Sho Sai Myo Kichijo, and the En Mei Jukku Kannon Gyo.  These have the advantage of not being translatable. Well, except when they are, as you can see in some of the liturgies below. These along with lineage chants are the foundational texts. After that there are some very interesting additions within our emerging North American communities.
And with that here is a selection of these liturgies for your consideration. I lead off with the translations offered by the Sotoshu. While not always the most graceful they provide the structural backbone for all Soto-identified communities.
And a request. If you have more to offer, I'll happily consider adding them to the collection. But in any case, I'd appreciate seeing them…
Soto School Scriptures for Daily Service and Practice
But there are many more, some having been around for decades. Some keeping close to the traditional forms, others more experimental, drawing upon additional sources. All worth reading.
Zen Community of Oregon (Great Vow Zen Monastery)
Yokoji Zen Mountain Center provides some bare bones texts: basic chants & basic sutras
But also a lovely introduction to the Soto liturgical service from Yokoji center…