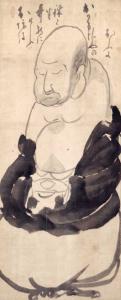 Sesshin
To Touch the Heart Mind
A three-day intensive Zen meditation retreat
With Roshi James Myoun Ford
Myoun Roshi will be assisted by Senior Dharma Teacher Jan Seymour-Ford. Other Zen priests and teachers may be joining us for all or part of the retreat. Stay tuned for announcements.
The sesshin starts on Thursday evening the 28th of June, 2018, and concludes with lunch on Sunday the 1st of July.
We will be gathering at the Pine Mountain Buddhist Temple & Meditation Retreat in the Ventura County Mountains of Southern California.
$225 for the weekend. Scholarships are available.
Zazen, liturgy, zazen, talks, zazen, spiritual direction interviews, zazen, meals, zazen, work practice. And some more zazen.
The retreat is limited to people with a stable meditation practice. Ideally within the Zen tradition. Consult the registration form, or write us for details.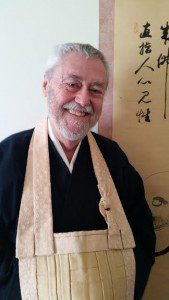 Myoun Roshi has been called one of the senior Zen teachers in North America. He has been a student of Zen for fifty years, and a teacher for twenty. He was ordained a Soto Zen priest and received Dharma transmission from Houn Jiyu Kennett Roshi. And after completing the Harada Yasutani reformed Soto koan curriculum, he received Inka Shomei from John Tarrant Roshi. Writing as James Ishmael Ford he is the author or editor of five books on Buddhism and Zen, including the forthcoming Introduction to the Zen Koan: Learning the Language of Dragons. He currently serves as senior priest of the Blue Cliff Zen Network.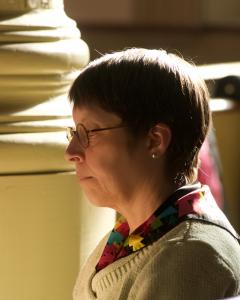 Senior Dharma Teacher Jan Seymour-Ford has been a student of Zen for more than a quarter of a century, studying principally with John Tarrant Roshi and Melissa Myozen Blacker Roshi. Blacker Roshi has given Jan permission as a lay spiritual director within the Zen tradition.
Pine Mountain Zen Temple is in the Ventura Mountains, approximately two and a half hours from LAX, two hours from Bob Hope International Airport in Burbank, and about two hours from Meadows Field Airport in Bakersfield. It is remote, approximately forty miles from either of the nearest towns, Ojai, or Gorman on Interstate 5. A perfect setting for a Zen retreat.
For more on Roshi James Myoun Ford
For more on the Blue Cliff Zen Network
For more on Pine Mountain Buddhist Temple
There is limited space. Please register early.