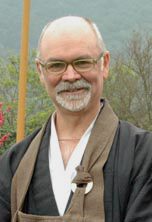 Daniel Terragno is a Zen teacher within the Diamond Sangha. We are both successors of Dr John Tarrant within the Harada-Yasutani lineage. So, he's my dharma sibling. While my own path has followed the currents of the ordained way within the Soto school, Daniel has dug deep into the great matter as a lay practitioner.
He is not as well known here in the English speaking community as he should be. When I looked at Youtube I saw nearly all the clips available are in Spanish. If you have Spanish speaking friends who have an interest in Zen, you might point them toward those clips.
He lives mostly in Sebastopol, California where he guides Rocks and Cloud Zendo, but he also leads retreats in Ohio, Chile, and Argentina.
I consider him a genuine master of the koan way, and more than that, of the way of the wise heart.
Last year I posted this talk on the lay practice of Zen, but I think it something that deserves wider distribution.
So, here you are…