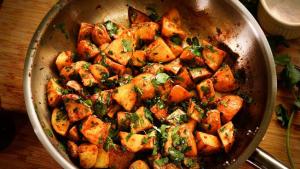 Jan & I have spent some time of late exploring Middle Eastern cuisines – that constellation of foods that range from the pillars of Hercules to somewhere within the Indian subcontinent. I even have to admit it is giving our long-time love, Mexican cuisine a serious run as our go-to comfort food.
And among the many dishes that have captured our hearts and stomaches (a special shoutout to chicken koobideh here), the real treat is the spud gone naughty, Batata Harra. Wikipedia says it comes from Lebanon, but as with others in that "middle eastern" family of foods, I'm finding versions from all over.
When we go out to a Middle Eastern restaurant, if its on the menu, we order it as an appetizer. (We are on Weight Watchers, and, well, it is a potato) We enjoy but don't go overboard. Then we take it home to mix with our morning scrambled eggs. If the restaurant is especially generous, or, we're looking more closely at the WW points, maybe it stretches to two breakfasts. Refrigerated, they keep for a while.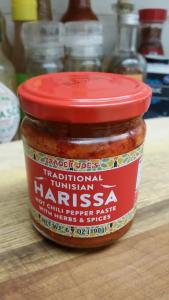 And, so, of course, I've been trying to replicate at home. The principal problems have been twofold. One, getting it spicy enough. Neither Jan nor I think pain is a flavor, but we do like to taste things. And, this is supposed to be spicy. As it happens Trader Joe provides a critical ingredient, a lovely Harissa, which does the job. The other problem is preventing the spuds from getting soggy.
I've gone through a number of recipes before finding one that was almost perfect. Priscilla Willis' wonderful food site She's Cooking' has become my baseline recipe. But, I have tweaked it a bit.
With that, my version:
Ingredients (for four, or if you're watching potato intake, six, or, two and a lot of leftover for subsequent breakfasts…)
1 pound potatoes (Idaho, Yukon Gold, or Red potatoes) cubed
1 tablespoon & a dash olive oil
1 red bell pepper chopped
4 large garlic cloves diced
2 teaspoons harissa (if you use powdered, you probably need to add a dash of oil to the mix)
1/2 teaspoon red Chile flakes
1/4 teaspoon ground pepper (freshly ground if you can)
3/4 cup chopped fresh cilantro
1 tablespoon lemon juice
Instructions
Heat oven to 450 degrees Fahrenheit (232 celsius)
Bring pot of water to boil.
Peel and cut potatoes into small cubes 1/2 to 1 inch.
Cook potatoes for three minutes. Transfer to colander to drain)
Pour off water, return pot to heat, return potatoes to pot to cook off as much remaining moisture as possible. Keep stirring potatoes to keep from sticking.
Combine oil, 1 teaspoon (I like generous) of the Harissa, and ground pepper, mix in with the potatoes.
Place in a single layer on a rimmed baking sheet covered with aluminum foil. Roast for ten minutes.
Remove from oven. Mix potatoes with remaining teaspoon (generous) of Harissa, garlic, chili flakes, red bell pepper, and half of the cilantro. (I find it easier to prepare this mix while the potatoes are roasting for the first ten minutes)
Return the potato mix to oven for another twenty minutes.
When potatoes are tender and nicely browned, remove and transfer to a bowl. Mix in remaining cilantro and lemon juice.
Serve hot or warm.
Eat.
And wonder if this might not be ambrosia. Or, at least one heck of a side dish at the table of the gods…