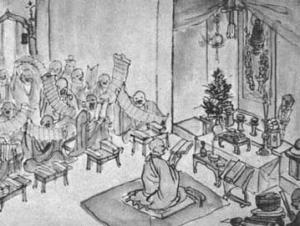 An old and dear friend sent me a link to a reading of Wallace Stevens' the Snow Man, suggesting here's some winter Zen. I replied that I'd seen it used in the liturgy at at least one, and if I recall correctly two Western Zen communities.
One must have a mind of winter
To regard the frost and the boughs
Of the pine-trees crusted with snow;
And have been cold a long time
To behold the junipers shagged with ice,
The spruces rough in the distant glitter
Of the January sun; and not to think
Of any misery in the sound of the wind,
In the sound of a few leaves,
Which is the sound of the land
Full of the same wind
That is blowing in the same bare place
For the listener, who listens in the snow,
And, nothing himself, beholds
Nothing that is not there and the nothing that is.
This set me to thinking. What other Western Zen poems might there be? A number, actually. Certainly near the top of any possible list I think would make would be Ranier Maria Rilke's Ninth Duino Elegy, which I would add I've heard chanted in at least one Zen center, here in Stephen Mitchell's lovely translation.
Why, if this interval of being can be spent serenely
in the form of a laurel, slightly darker than all
other green, with tiny waves on the edges
of every leaf (like the smile of a breeze)–: why then
have to be human–and, escaping from fate,

keep longing for fate? . . .
Oh not because happiness exists,
that too-hasty profit snatched from approaching loss.
Not out of curiosity, not as practice for the heart, which
would exist in the laurel too. . . . .
But because truly being here is so much; because everything here
apparently needs us, this fleeting world, which in some strange way
keeps calling to us. Us, the most fleeting of all.
Once for each thing. Just once; no more. And we too,
just once. And never again. But to have been
this once, completely, even if only once:
to have been one with the earth, seems beyond undoing.
And so we keep pressing on, trying to achieve it,
trying to hold it firmly in our simple hands,
in our overcrowded gaze, in our speechless heart.
Trying to become it.–Whom can we give it to? We would
hold on to it all, forever . . . Ah, but what can we take along
into that other realm? Not the art of looking,
which is learned so slowly, and nothing that happened here. Nothing.
The sufferings, then. And above all, the heaviness,
and the long experience of love,– just what is wholly
unsayable. But later, among the stars,
what good is it–they are better as they are: unsayable.
For when the traveler returns from the mountain-slopes into the valley,
he bings, not a handful of earth, unsayable to others, but instead
some word he has gained, some pure word, the yellow and blue
gentian. Perhaps we are here in order to say: house,
bridge, fountain, gate, pitcher, fruit-tree, window–
at most: column, tower. . . . But to say them, you must understand,
oh to say them more intensely than the Things themselves
ever dreamed of existing. Isn't the secret intent
of this taciturn earth, when it forces lovers together,
that inside their boundless emotion all things may shudder with joy?
Threshold: what it means for two lovers
to be wearing down, imperceptibly, the ancient threshold of their door–
they too, after the many who came before them
and before those to come. . . . ., lightly.
Here is the time for the sayable, here is its homeland.
Speak and bear witness. More than ever
the Things that we might experience are vanishing, for
what crowds them out and replaces them is an imageless act.
An act under a shell, which easily cracks open as soon as
the business inside outgrows it and seeks new limits.
Between the hammers our heart
endures, just as the tongue does
between the teeth and, despite that,
still is able to praise.
Praise this world to the angel, not the unsayable one,
you can't impress him with glorious emotion; in the universe
where he feels more powerfully, you are a novice. So show him
something simple which, formed over generations,
lives as our own, near our hand and within our gaze.
Tell him of Things. He will stand astonished; as you stood
by the ropemaker in Rome or the potter along the Nile.
Show him how happy a Thing can be, how innocent and ours,
how even lamenting grief purely decides to take form,
serves as a Thing, or dies into a Thing–, and blissfully
escapes far beyond the violin.–And these Things,
which live by perishing, know you are praising them; transient,
they look to us for deliverance: us, the most transient of all.
They want us to change them, utterly, in our invisible heart,
within–oh endlessly–within us! Whoever we may be at last.
Earth, isn't this what you want: to arise within us,
invisible? Isn't it your dream
to be wholly invisible someday?–O Earth: invisible!
What, if not transformation, is your urgent command?
Earth, my dearest, I will. Oh believe me, you no longer
need your springtimes to win me over–one of them,
ah, even one, is already too much for my blood.
Unspeakably I have belonged to you, from the first.
You were always right, and your holiest inspiration
is our intimate companion, Death.
Look, I am living. On what? Neither childhood nor future
grows any smaller . . . . . Superabundant being
wells up in my heart.
And of course, would their be a Western Zen liturgy without at least a taste of T. S. Eliot's Four Quartets, say the concluding lines from Little Gidding.
With the drawing of this Love and the voice of this Calling
We shall not cease from exploration
And the end of all our exploring
Will be to arrive where we started
And know the place for the first time.
Through the unknown, unremembered gate
When the last of earth left to discover
Is that which was the beginning;
At the source of the longest river
The voice of the hidden waterfall
And the children in the apple-tree
Not known, because not looked for
But heard, half-heard, in the stillness
Between two waves of the sea.
Quick now, here, now, always—
A condition of complete simplicity
(Costing not less than everything)
And all shall be well and
All manner of thing shall be well
When the tongues of flames are in-folded
Into the crowned knot of fire
And the fire and the rose are one.
And last, for me one of the most remarkable summations of the Zen life as I understand it, Mary Oliver's Blackwater Woods.
Look, the trees

are turning
their own bodies
into pillars
of light,
are giving off the rich
fragrance of cinnamon
and fulfillment,
the long tapers
of cattails
are bursting and floating away over
the blue shoulders
of the ponds,
and every pond,
no matter what its
name is, is
nameless now.
Every year
everything
I have ever learned
in my lifetime
leads back to this: the fires
and the black river of loss
whose other side
is salvation,
whose meaning
none of us will ever know.
To live in this world
you must be able
to do three things:
to love what is mortal;
to hold it
against your bones knowing
your own life depends on it;
and, when the time comes to let it go,
to let it go.
So, here's a question. What other poetry from our Western heritage might belong in any new Zen liturgy?