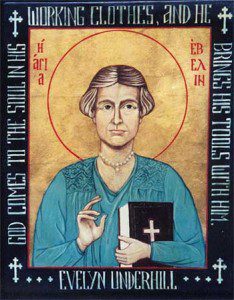 The Church of England and the American Episcopal Church both observe today as a festival in honor of Evelyn Underhill, who died on this day in 1941.
Underhill was born on the 6th of December, 1875 in Wolverhampton in the West Midlands, in England. She would grow to become a novelist, poet, and most of all a renowned spoksperson for the mystical encounter. The author of many books, no doubt her magnum opus was Mysticism: A Study of the Nature and Development of Man's Spiritual Consciousness, published in 1911.
The Wikipedia article characterizes the "spirit of the book (as) romantic, engaged, and theoretical rather than historical or scientific." It was also deeply accessible. I know in my own early years casting about for some explanation of the inner life, that this was enormously helpful. She was for me a powerful counter voice to another important theorist of universal spiritual encounter, William James. James thought about religion a lot. Underhill wanted to live into what it actually can be.
And, that's the most important thing, she seemed to speak from actual experience.
As she tried to put what she had experienced together with her observations out of a deep reading into the mystical literature of the West, she offered a typology that continues to make sense to me. "(1) mysticism is practical, not theoretical, (2) mysticism is an entirely spiritual activity, (3) the business and method of mysticism is love, and (4) mysticism entails a definite psychological experience."
Now, I think it all needs unpacking. And she does a good job. I don't find I agree with everything, nor should I. She's a Christian and I'm a Zen Buddhist. But, my, she does point in a true direction, in many ways beyond the constraints of a single faith, even if firmly from within a particular faith. Maybe, I wonder, if that's not a critical aspect of her success. The universal does appear to only be found within some particular.
While Underhill was deeply enchanted with the Roman church and had intimate friends and spiritual companions from within that tradition, for a number of reasons not least her husband's antipathy to Rome, Underhill remained within the Anglican communion for her whole life. Personally, I think all to the good.
As the Wikipedia article summarizes, "More than any other person, she was responsible for introducing the forgotten authors of medieval and Catholic spirituality to a largely Protestant audience and the lives of eastern mystics to the English-speaking world."
A significant figure. A wonderful guide.
Here's a sample in her own words.
If you're not familiar with Evelyn Underhill, I encourage you to explore a little what it is she had to offer. I believe you will find it was quite a bit…
(Icon of Evelyn Underhill is by Suzanne Schleck.)