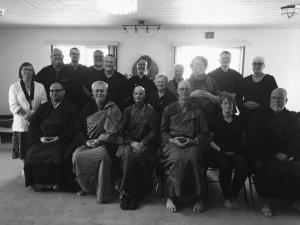 Jan & I have now been "retired" for three years. I use the quotes as we seem to be busier than ever. Jan has been principally focused on social justice work, although she has also been solidly supportive of our Zen project. I have been dedicated to that Zen project, specifically with our starting up of two Zen groups, one here in Long Beach, the other in the OC, in Costa Mesa. Both have been generously hosted by local Unitarian Universalist churches.
We call the project Blue Cliff Zen. Originally the name was Blue Cliff Zen Sangha. Increasingly it is the Blue Cliff Zen Network. Our original focus was Long Beach, and a year after that Orange County. But from the beginning Ed Oberholtzer has insisted his Northumberland, Pennsylvania group be part of the Blue Cliff. Then Janine Larsen has brought the two groups she guides in the Seattle area into our project. And, Mo & Tom Wardle are looking to establish an affiliated sangha in Oakland, California. So, network…
Our mission is to establish communities of practice within the Western Soto Zen mahasangha. We are committed to conforming, largely, to the forms of the Soto tradition. And we are continuing to transmit ordained practice although we are deeply concerned with three adaptations.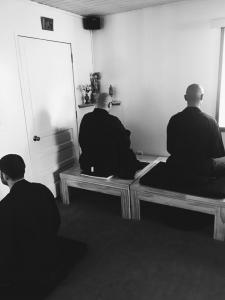 First is our commitment to the integration of koan introspection within our Western Soto practice. Second is acknowledging the full and genuine equality of lay practice. And, the third is making adaptations to our ordained practice in the light of contemporary cultural realities.
Basically, this means while profoundly respecting the monastic formation of the ango system, counting extensive sesshin, intensive meditation retreat as adequate to that practice component of priestly formation for our Western Soto clerical practitioners.
And. Well. So far, so good…
Focusing on our communities here in SoCal we are beginning to explore what dedicated space might look like. We are working up reasonable expectations of cost and are about to approach those who practice with us about what it is they would feel they can support with actual money.
I find us standing at some mysterious point in time where we will be making decisions about what to do next. We are about to open our community to formal "membership."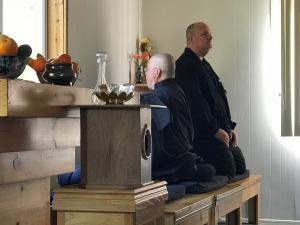 And, well, I am hoping people will be willing to step forward and support us in these next steps. I am hoping to see the establishment of a dedicated center to serve as the locus for our practice.
You will be hearing more as we go forward.
But, for the moment: fair warning. Practice is calling. Commitment to the great way is calling.
Calling out to hungry hearts.
Possibilities are opening.
And, maybe you're feeling whispers, a beckoning toward the great project…