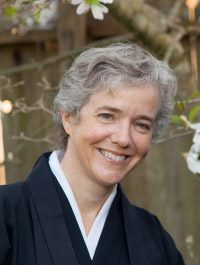 As most who follow my blog know, I am a Zen Buddhist priest within the Japanese-derived North American Soto school. But, and I hope that's also clear, I am also an ordained Unitarian Universalist minister. And actually I earned my keep for a quarter of a century serving UU congregations in Wisconsin, Arizona, Massachusetts, and Rhode Island before returning home to California in my "retirement." 
This can happen because of the radical non-creedal stance of the UU church, which, while rooted in Protestant culture and the child of historic Christian Unitarianism and Universalism, has in its contemporary expression actively welcomed nonChristians. Historically, somewhere at the beginning of the twentieth century the tradition moved from being a liberal Christian Church to being a liberal church with Christians. And, atheists, and pagans, and Hindus, and, well among that great collections of "ands," Buddhists. 
There are in fact quite a number of UU Buddhists. That said, I enjoy the distinction of being the first to be jointly a Zen Buddhist priest and a UU minister. The second is the Reverend Florence Zenshin Caplow. She has recently been called to serve the Unitarian Universalist Church of Urbana-Champagne. And, yesterday, the 10th of November, 2018, she was formally installed as their parish minister. 
I was invited to provide the "charge to the minister," a traditional part of a ceremony of installation, bringing some words of encouragement and challenge. However, I was rather unexpectedly impanelled on a jury back home and was unable to attend. 
Florence insisted I provide the words, which a colleague generously read on my behalf.
I thought as they are a charge to someone entering a formal covenant of service, they embodied the mystery of what it means to be ordained, both within UU lives and Zen lives, that they might be worth sharing here.
Actually, I think this could be the charge to anyone who has taken up the bodhisattva vows…
First the text of my charge, and then a video of the service. My part is somewhere in the last third of the service. But, the whole thing is worth watching, I think…
***
Dear Florence Zenshin,
In your wonderful book Hidden Lamp, you shared a commentary on a koan, those ancient spiritual stories that form a core part of the Zen tradition. This was one from the Chinese anthology of koans, Compendium of the Five Lamps, which tells of a monk who asked an old woman to name her relatives. She answered, "The mountains, rivers, and the whole earth, plants and trees." And, I would add, of course, every man, and woman, and child. And, of course, the least and the greatest of things. Our family. All of it. Without exception.
Now you are embarked on a difficult, actually, an impossible task. This wonderful community who has called you as their minister is many more than the three hundred or so who've signed the book as members. There are also their extended families. There are also the people in the neighborhood, actually within the city.
And it doesn't stop there. We begin to see the circles of connection and we quickly discover it's like those Russian dolls, one inside another, and soon, you bet, we move from those within these walls out to the prairie, to the mountains, the rivers, and, yes, the whole earth. And then it doesn't even stop there. So, did I use the word impossible, yet? Impossible.
And yet, you and I have both taken the Bodhisattva's vow. We are committed to not turning away, to tend to broken hearts, to carry a word of hope, to being companions to all who wish to cross to the farther shore. Impossible.
I find myself thinking about that koan about the old woman and her relatives. As you recall a koan is not merely a thorny question. A koan is a matter to be made clear. A koan is a pointing to the great truths of our lives and an invitation to stand it that place.
As you wrote. "I close my eyes and say… across the years, 'How distant are those relatives of yours?' She says, 'Come closer.' I lean forward. 'Even closer.'":
The intimate way.
That's our way. That's our ministry. That's your ministry. That's our vow. That's your vow. Nothing less.
The koan revealed.
Dear sister, much love, many blessings,
James Myoun