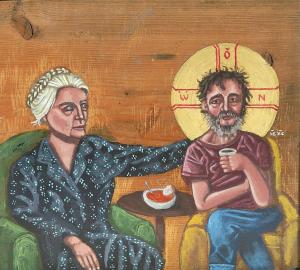 Dorothy Day was born on this day in 1897.
In my youth there were two Catholic Christians who particularly influenced me. The first of these was Thomas Merton. He occupies my dreams to this day. The second was Dorothy Day. She too haunts my heart.
Dorothy Day was, as I noted at the beginning, born on this day, November the 8th, in 1897, in Brooklyn. The family was nominally Episcopalian, but starting at ten Dorothy began taking herself to church.
She read widely and was deeply influenced by Upton Sinclair's call to social justice as well as anarchism, particularly as presented by Peter Kropotkin.
Dorothy attended the University of Illinois at Urbana-Champaign but left after two years. She returned to New Y0rk, moving to the Lower East Side. She took up journalism, working for several Socialist periodicals. The article on her at Wikipedia recounts her saying of that time "When I read Tolstoy I was an Anarchist. My allegiance to The Call (where she worked as a journalist) kept me a Socialist, although a left-wing one, and my Americanism inclined me to the I.W.W. movement."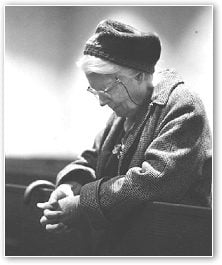 During these years Dorothy had several lovers and one brief marriage. In 1926, with Foster Batterham she had a daughter, Tamar Teresa. At this time her long interest in Catholicism began to take root. The following year she had her daughter baptized within the Catholic Church. At the end of the year she was baptized, as well.
She briefly wrote dialogue for movies and lived in Hollywood, but mostly she continued as a journalist. In fact during an assignment for the Commonweal, she began to think about how best to join her spiritual passion and her fervent longings for the work of justice.
Then in 1932 she met Peter Maruin. While she would always credit him as the founder, together they developed the Catholic Worker movement. Catholic workers embrace an unlikely theology of Christian anarchism, which can be seen at least in some ways as a precursor to liberation theology.
A project began. Dorothy Day was herself profoundly committed to pacifism. This was strained within the communities that were gathering around her and Peter Maruin with the outbreak of the Second World War. But she persisted. As the years passed when she opposed the Vietnam war, this was met with greater success. She also supported works rights and remained for the whole of her life opposed to Capitalism.
This would often bring her into conflict with the hierarchy. One notable example was how she supported a Catholic gravediggers strike, publicly challenging the then cardinal to treat them with dignity and to enter into mediation. Later, she frequently challenged another cardinal, the extremely conservative Francis Spellman. He endured numerous critiques, most of them public. He was asked that considering she stated herself to be under authority to the church, why he didn't simply silence her? The cardinal famously replied that he would not, because "she might be a saint."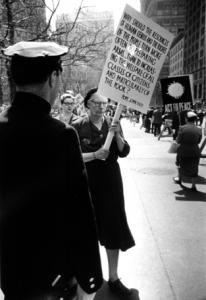 Indeed since her death there has been a movement for her to be formally declared a saint in the Roman Catholic Church.
And. Over the years has been the Houses of Hospitality that specifically remain the greatest testimony to Dorothy Day as someone of a significant importance to us here in North America as well as in the larger world. The houses are often communal, and offer shelter, food, clothing, and often other supports those most in need. Their services are provided without charge nor with any form of religious coercion such as attendance at prayer meetings.
There are now some 240 Catholic Worker communities of various sorts, "committed," as they say "to nonviolence, voluntary poverty, prayer, and hospitality for the homeless, exiled, hungry, and forsaken. Catholic Workers continue to protest injustice, war, racisim, and violence of all forms."
Am I resonant with everything she said or taught? No. I also have a feeling she wasn't always fun to be around. But I am in awe of her life, of what she did, and who she became. Someone special. Someone to remember. And, maybe someone to listen to.
Dorothy Day said "Don't call me a saint." She had a right to her view. In that area many disagree. Me, I'm in the highly unusual situation here in our time and place to find myself in agreement with Cardinal Spellman.
Dorothy Day might indeed be a saint.
What I do know is someone rare and awesome has passed through this world.
And, I am grateful…