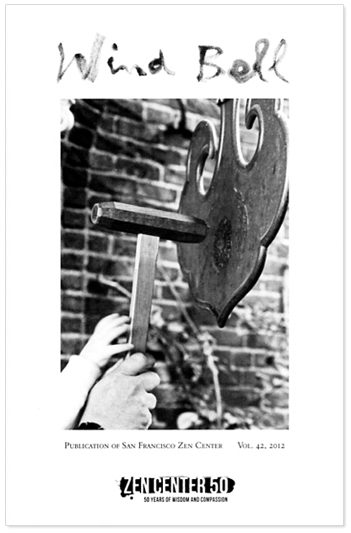 As it happens it was today, the 2nd of December, 1961, that the San Francisco Zen Center published the first issue of Wind Bell. An unsigned article at 50years.sfzc.org tells us:
"From its humble single-sheet newsletter beginnings on December 2, 1961, prior to San Francisco Zen Center's incorporation, over the decades Wind Bell has grown into a much admired chronicle not just of Zen Center but of emerging Western Buddhism. Library Journal has praised Wind Bell as a resource containing "some of the most profound and useful writings available on Zen practice."
"Known by many readers in its semiannual incarnation, Wind Bell has varied over the decades in both publishing schedule and emphasis, but has always reemerged to express the activity of practice through Zen Center's teachings, ceremonies, community news, and daily life."
Michael Wenger edited the "best of" Wind Bell as Wind Bell: Teachings from the San Francisco Zen Center – 1968-2001. It is well worth the read.
David Chadwick's magisterial Cuke.com has archived a great deal of the Wind Bell materials, including here the first thirteen issues.