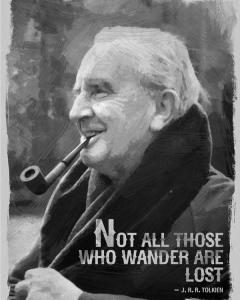 It was on this day, the 3rd of January, in 1892 that John Ronald Reuel Tolkien was born into a middle class English family of German descent in Bloemfontein in what was then the Orange Free State and today South Africa. His father represented an English bank.
At the age of three he, his younger brother and mother returned to England. His father had planned to join them shortly, but unexpectedly, died.
While the poor relations, the three were supported by the family. Tolkien was a prodigy, reading at four and beginning the study of languages soon after.
A few years later his mother converted to Catholicism a problem in the Protestant family. The boys followed her into Catholicism. Not many years later she died from the complications of still untreatable diabetes. Tolkien was twelve.
He and his brother were entrusted to the care of a Catholic priest, Father Francis Xavier Morgan, who became a beloved mentor. He would win a series of scholarships, concluding with attending Exeter College in Oxford. Tolkien graduated with first class honors in 1915 in the midst of the First World War. He was commissioned a second lieutenant and soon after married Edith Bratt.
Tolkien endured combat including the horror of the infamous battle of the Somme. But, fortunately for all, he survived the carnage. After the war Tolkien first found employment with the Oxford English Dictionary, working mostly on the letter "W." He then accepted a professorship at the University of Leeds, and later was appointed Rawlinson and Bosworth Professor of Anglo-Saxon at Pembroke College, in Oxford.
After the Second World War, where he worked primarily as a codebreaker he joined Merton College, Oxford, as the Merton Professor of English Language and Literature. This was a position he would hold until his retirement.
Tolkien had a speech impediment and could be hard to understand, but was nonetheless quite popular with his students throughout his career. He and Edith had four children. By all accounts the marriage was happy. The couple had four children. Edith died in 1971. He died two years later. He was 82.
A quiet and largely happy life.
And. For us there's that other thing…
According to the good folk at Wikipedia, "In a 1955 letter to W. H. Auden, Tolkien recollects that he began work on The Hobbit one day early in the 1930s, when he was marking School Certificate papers. He found a blank page. Suddenly inspired, he wrote the words, 'In a hole in the ground there lived a hobbit.'
By late 1932 he had finished the story and then lent the manuscript to several friends, including C. S. Lewis and a student of Tolkien's named Elaine Griffiths. In 1936, when Griffiths was visited in Oxford by Susan Dagnall, a staff member of the publisher George Allen & Unwin, she is reported to have either lent Dagnall the book or suggested she borrow it from Tolkien.
In any event, Dagnall was impressed by it, and showed the book to Stanley Unwin, who then asked his 10-year-old son Rayner to review it. Rayner's favourable comments settled Allen & Unwin's decision to publish Tolkien's book."
And so it was in 1937, J. R. R. Tolkien's novel The Hobbit was published to critical acclaim. It was a Carnegie Medal nominee (although The Family from One End Street by Eve Garnett won).
It has never been out of print since that time.
And. Sequels would follow.
Me. I read the Hobbit when I was sixteen. Those sequels, what we know as the Lord of the Rings trilogy followed quickly after.
And, I find that imaginal world has entered and enshrined itself in my heart.
Speaking of religion, here's a clip from EWTN's "Tolkien's 'The Lord of the Rings:' A Catholic Worldview," portraying a debate between fellow Inkling C.S. Lewis and J.R.R. Tolkien on whether or not myths are lies…"
And then, this…