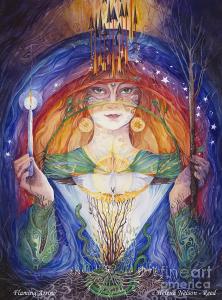 I was talking with several friends. All Unitarian Universalist ministers. So, of course, as natural as dawn follows night the conversation drifted, if only for a moment, to the divine. The Reverend Doctor Walter Weider offered his view that one deity doesn't work for him. Either none or a million. We've all heard this before, so it didn't trigger much. And, not long after the conversation moved on. I forget precisely where. But, given our ages, probably toward a comparison of medications.
But, it did leave me thinking a bit about that great mystery which we call the divine.
A literal divinity, Jove or Yahweh. Probably not. The universe doesn't seem to be run by a human-like consciousness. Not to my read.
But not the only way to answer that question.
Back when I was younger and smarter I'd opined that God is a hole in the language into which we throw all our hopes and fears. A professor who heard this added a bit of chiaroscuro by sort of agreeing. "Yes, James, a whole in the language into which we throw all our hopes and fears."
So, while I can absolutely roll with the no God, I tend to find the mystery a bit more of a cornucopia, a pouring out into our lives and from our minds and hearts as a richness, a parade of wonderments. The divine is possibilities.
So, from one angle at least, many gods.
And with that I notice today is Imbolc, a festival of my ancestors marking the beginning of Spring. Let me tell you, like my people on that little island for so long, so long, at this moment I'm ready for Spring…
I'm also among that crowd that are pretty sure this is the origin for what has become the Feast of St Brigid. While I believe there was a Christian of the name, it seems hard to avoid seeing the mixing of that good lady with the other good lady, one of those triple goddesses so loved by the ancients in that area.
And, me, I like that sort of thing. The old and the new, a great blending, and a pointing to the great arc. Or, maybe like an arrow trailing a golden thread joining everything as it passes. Which certainly can fit the day. Today.
Augusta Gregory writes the goddess Brigid was "a woman of poetry, and poets worshipped her, for her sway was very great and very noble. And she was a woman of healing along with that, and a woman of smith's work, and it was she first made the whistle for calling one to another through the night. And the one side of her face was ugly, but the other side was very comely. And the meaning of her name was Breo-saighit, a fiery arrow."
Fiery arrow. I think of Cupid's arrow, of Apollo's arrow, of Robin Hood's arrow, of William Tell's arrow. I think of that Buddhist arrow – someone is shot by an arrow and goes to a physician. The physician does not ask where the arrow was made, nor how it was shot into his body. The good physician removes the arrow. Another Buddhist line is about time passing as fast as an arrow. And another speaks of two arrows meeting in mid air.
Arrows. All of them.
Spring may in fact not fully be here. But there is a turning. A joining.
Those connections. The dream time of our human hearts follows from thing to the next as if dragged along by that arrow, fiery, and dragging a golden thread.
Shot through my heart and all other hearts. The great joining. A needle stitching all things together.
And with that noticing a small blessing.
May the firey arrow be with you at this moment of transition and hope. May we all find the connections.
The illustration is Brigid, the Flaming Arrow by Helena Nelson-Reed.