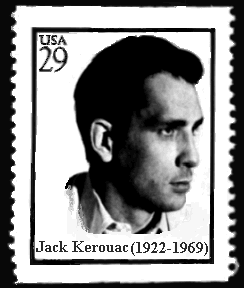 Jean Louis Kerouac, or maybe it was Jean-Louis Lebris de Kerouac was born to a French-Canadian family in Lowell, Massachusetts, on this day, the 12th of March, in 1922.
Of course, we know him as Jack Kerouac.
The Wikipedia article on Kerouac gives us a pretty good summation of the person and his legacy.
"He is considered a literary iconoclast and, alongside William S. Burroughs and Allen Ginsberg, a pioneer of the Beat Generation. Kerouac is recognized for his method of spontaneous prose.
"Thematically, his work covers topics such as Catholic spirituality, jazz, promiscuity, Buddhism, drugs, poverty, and travel. He became an underground celebrity and, with other beats, a progenitor of the hippie movement, although he remained antagonistic toward some of its politically radical elements."
He was also one of a handful of writers, artists, and musicians who helped to midwife Zen Buddhism's birthing into Western culture.
And, so, an important figure for me in my youth.
Actually, there is a small link between us. Pretty tenuous, but…
It was the late nineteen sixties. I went to the San Francisco Zen Center to learn how to meditate in the Zen style. The instructor was one of Suzuki Roshi's senior students, a man named Claude Dalenberg. He taught our little class. So, in some way my first Zen teacher. In the ensuing years our lives would touch from time to time. And I always remain grateful to him for his introduction of the practices of what would become my primary spiritual discipline for the whole of my life. (Well, up to now. But, at seventy, it's looking unlikely something is going to supersede it…)
Claude was one of those figures who are quite significant to something but are not usually the subject of biographies or other means of maintaining a place in the public imagination. Although he does get a couple of footnotes in the establishment of Zen in the West. When the Zen popularizer Alan Watts wrote his memoir, In My Own Way, he recounted an incident that happened after he had been appointed to the faculty of the American Academy of Asian Studies (Which would eventually mutate into the. California Institute of Integral Studies). In it he overheard a visitor with a burning spiritual question asking after Dr Watts who was told with a question that important you'd be better off speaking to the janitor. The janitor was Claude Dalenberg.
And, more directly to the point, and to that smallest of small links to Jack Kerouac, in his novel
Dharma Bums
, many of the characters were thinly reworked versions of his friends. So, Kerouac himself was Ray Smith, Gary Snyder was Japhy Ryder, Allen Ginsberg was Alvah Goldbook, and Claude Dahlenberg was Bud Duchendorf.
Like I said, a small connection…
Actually a lot of Kerouac's story telling involved his friends. His second novel, and his masterwork On the Road was a roman a clef, featuring many of his friends including Alan Ginsberg as Carlo Marx, William Burroughs as Old Bull Lee, Neal Cassady as Dean Moriarty, and himself as Sal Paradise. While it had its critics, Truman Capote famously said Kerouac didn't "write, he types," for the most part the book was acclaimed as something amazing. Today Modern Library ranks it as one of the one hundred best English language books of the twentieth century and Time Magazine ranks it similarly for the last three quarters of that century. The Guardian ranks it among the best one hundred English language books, period.
Sadly he died in 1969, at the age of 47, from complications associated with serious alcohol abuse. A loss…
More personally for me, and really with significance for all of us, with all his faults, and my there were as I said a bunch, he and a handful of other crazy writers, poets, and musicians were those early explorers of what Zen Buddhism might mean to a hungry, searching, West. And, while they got a lot wrong, and they added in spice that wasn't there before, nonetheless, they launched something worthy, something precious and good.
Our Western Zen, still forming, still messy, has been for many a life-raft in a raging sea. One of them, me…
So, happy birthday, Jack!
And, thanks…