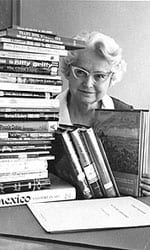 Clara Estelle Breed was born on this day, the 19th of March, in 1906, in Fort Dodge, Iowa. At her father's death when she was fourteen the family located to San Diego.
After she earned her master's in Library Science she began a more than forty-year career within the San Diego library system. She started in 1928 as a children's librarian and eventually spent twenty-five years as the City Librarian.
Known as "Miss Breed," she had a storied career as a librarian. But, she is known to history for standing against the internment of Japanese Americans during the Second World War.
She lobbied her members of congress and wrote two published articles denouncing the internments. As the war proceeded she lobbied that families separated because one parent or another was deemed a security risk, be reunited, and that college age internees at least be released to attend Midwestern colleges.
Throughout the war Miss Breed maintained an ongoing correspondence with many of her former patrons, as well as visiting the Arizona concentration camp most of them had been placed in. She continued to send the children and their parents reading materials throughout the war, as well as personal items like toothbrushes and soap.
Miss Breed kept more than two hundred and fifty cards and letters she'd received during those years from the children. In 1993 she gave them to one of the children, Elizabeth Kikuchi Yamada, then a retired teacher, who passed them on to the Japanese American National Museum. They are now part of the museum's permanent collection.
Clara Estelle Breed, Miss Breed, died in 1994. She was 88.