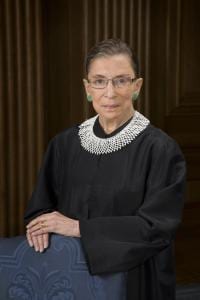 As it happens today is Ruth Bader Ginsburg's eighty-sixth birthday. Not one of those days normally celebrated. But, that acknowledged, a day I hope we will take note of. And a life, I for one, hope is extended for years to come…
Joan Ruth Bader was born on this day, the 15th of March, 1933, in Brooklyn, New York.
She was the second child and second daughter of Nathan & Celia Ginsburg. Her father was a refugee from Odessa, her mother a native born American, although her mother's parents were also refugees, for them from Austria. The family was Jewish.
Joan's elder sister died of meningitis when she was fourteen months old. As one of several Joan's in school, she began to be called Ruth to distinguish her from the other children. It would become one of the few times where she needed to be sorted out from others.
Ruth was raised a Conservative Jew, although the family was not particularly observant. Obviously brilliant to all who encountered the young girl, she graduated from High School at fifteen. Her mother died while Ruth was in High School. This loss would mark her life.
The family put its limited resources toward her brother's education. Nonetheless she was able to get into Cornell. There she was awarded Phi Beta Kappa and then graduated highest among her female peers. There she also met Martin Ginsburg. A month after her graduation they married.
Ruth & Martin had their first child, Jane, in 1955. Jane would grow up to become a professor at Columbia school of law. Their second child, James, would grow up to become a prominent music producer and president of Cedille Records.
In 1956, following her husband, she was one of nine women admitted to Harvard Law school. There she made the Law Review. When Martin graduated and obtained a position in New York, she was forced to transfer to Columbia. She became the first woman to be appointed to two Law Reviews, the second time at Columbia.
She graduated in 1956, tied for first place.
Ruth was unable to obtain a job as a lawyer because of her gender. But she was offered a job as a professor at Rutgers.
And, well, it all unfolded from there.
The Notorious RBG is now eighty-five.
May she live a hundred more years…