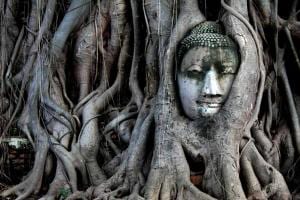 You find yourself in a stone crypt. There are no windows. The sole door is locked from the outside. How are you free?
Miscellaneous Koans of the Harada Yasutani Curriculum
I find myself thinking of Herschel Schacter.
He was a leader of the Modern Orthodox movement who died in 2013.
But we mostly recall him for an incident at the close of the second world war.
It was the 11th of April, 1945. He was a Jewish chaplain attached to the VIII Corps of the Third Army. He was the first chaplain to enter Buchenwald – about an hour after its liberation. In her obituary for the rabbi in the New York Times, Margalit Fox describes how "the smoke was still rising…"
He later would describe the memories seared into his heart. That "smoke in his eyes, the smell of burning flesh and the hundreds of bodies strewn everywhere." It seemed everyone had been murdered, and he had to ask were any Jews still alive?
He was taken to the barracks where people too weak to move lay in bunks, confused, and terrified, not knowing what was happening. It fell to him to tell them.
"Shalom Aleichem, Yidden," he called out in Yiddish. "Ihr zint frei!" Peace be upon you, Jews, you are free!" He ran to every one of the barracks repeating his call of rescue, of freedom.
The rabbi spent months there, helping. Among the survivors there were a thousand orphans alone that needed tending. Among them he helped a teenager Elie Wiesel.
I've read that today about a third of Americans don't believe there was a holocaust, more minimize it, while two thirds of millennials don't even recognize the word Auschwitz.
So there we are as human beings. We forget. We deny.
So, here you are. In a stone crypt. A tomb. Refugees fleeing horrors in Central America. Sitting in a camp in Gaza. Looking for clean water in Flint. The list is very long. And not all of it dramatic. Isolation. Despair. Addiction. Small things. Personal tragedies.
And. And, of course, love, and work that satisfies, and friends. Joys.
All of it. All of it. A container. A moment of awareness surrounded by unknown things.
Here in this place, in this body, as this body, as this place.
How are you free?
A koan is not a meaningless statement. A koan is an assertion about reality. And with that assertion, comes an invitation.
Here we are confronted with the harsh reality of our life. Our death. All our deaths. And with that the bitterness, and, yes, joys of that life constrained on all sides by death. There is no escape.
In the forgetting and the denying there's always another option.
Peace be upon you. You are free.
The koan usually is meant intimately. It's about me specifically. It's about you specifically.
But, let's just pretend we know the answer. We see ourselves in the tomb.
Part of the mystery is discovering that we play many parts. We are the person stuffing the person who is us into the tomb. Which is also us. We are the guards. We are the stones upon which it all rests.
Let's say we really get it. Down to our bones, we get it. What does that mean?
Usually things are connected. So, what follows that discovery?
Today, here, now. How are we free? In this moment, with all the strife and hurt of this world, our shortcomings as human beings, our collaboration with the killers, our fears, our heroic acts, our small acts – we're involved in all of it: in this moment, how are we free?
A koan.
An assertion.
And an invitation…