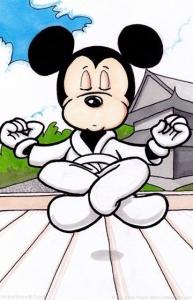 One of the minor interesting things about forming our Anaheim Zen Sangha at the Unitarian Universalist Church in Anaheim is that we are very, very close to Disneyland.
And as happens when one notices something like say people walking down the street with mouse ears, all of a sudden one sees mouse ears everywhere.
So, along with mouse ears everywhere, perhaps not surprising it turns out today, the 15th of May, in 1928, Walt Disney attempted to release the animated short "Plane Crazy." Its most distinctive feature was that it was the first time Mickey Mouse appeared. However, no one picked it up. So, the film languished…
Until "Steamboat Willie," which was the breakthrough short, and Mickey's first sound cartoon was released.
While the first made, Plane Crazy would become the fourth Micky film, released on the 17th of March, 1929.