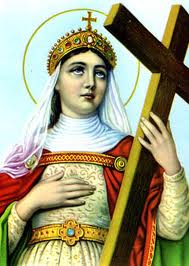 Me, I love saints.
There are a ton of saints in the Roman & Orthodox calendars. Originally, in their corner of the Reformation, the Anglicans stripped their calendar down dramatically. Although they've been enriching it in very interesting ways over the last couple of hundred years.
Saints, well, they have a way of popping up in the oddest of places.
Today marks the celebration of a prime example. One, I have to admit, I find very interesting. 'Tis the feast of Helena of Constantinople, known in some circles as the Feast of the Holy Great Sovereigns Constantine and Helen, Equal to the Apostles.
Yikes. A blood thirsty tyrant. Well, and I guess arguably also the author of what would become the normative face of Christianity, so, well, maybe. And Helena. Celebrated by the Catholic, the Orthodox and the Anglicans. Maybe some Lutherans, too.
Helena is the mother of Constantine "the Great." Don't want to confuse him with those lesser Constantines. Apparently the Brits like to say she was English, and want her to have been the daughter of a king. Others suggest a lower rank, including stable maid. Whatever, it doesn't look like her life was all that easy. Until her son took over as head of the Roman Empire. Then things changed.
She was a pious person, an actual Christian, I believe. Unlike the rest of that clan who were in the tyrant business above all else. I actually don't think there's blood on her hands.
Her major contribution was to the religious tourist industry in Israel & Palestine. As well as giving the relic industry a much need shot in the arm.
Between 326 and 328 Helena traveled to the Holy Land and her tour guides at the time helped her to "discover" the sites of the nativity in Bethlehem, the ascension, Jesus' tomb, the true cross, including several of the nails, as well as, on a side trip, the site of the burning bush.
Pretty cool. And I have no doubt she believed these were all exactly what they were presented as.
Okay, I admit I don't see equal to the Apostles. Mother of the author of Christianity, Inc., perhaps. Patron saint for religious tourism, you bet.
Worth the saint title?
I'm always a softy for moms, so I guess, why not?