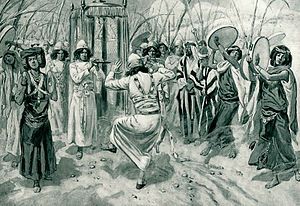 "And David danced before the Lord with all his might…" 2 Samuel 6:14
According to the good folk at Wikipedia it was on this day, the 24th of June, in 1374 that a major, maybe the first major outbreak of St John's Dance occurred in Aachen, Germany. St John's Dance is also called St Vitus' Dance, apparently for the rough dates upon which it occurred, was a form of dancing mania that popped up in Europe between the fourteenth and seventeenth centuries.
In my youth I first became aware of it as various psychedelic proponents theorized it was caused by ergot poisoning from spoiled rye bread. Perhaps. In fact to this day, while there have been numerous hypotheses put forth, there is no definitive view as to what exactly was going on. Although my favorite version is that this was the work of secret societies, a term I've stumbled on in several articles, "deviant religious sects." I do like deviant religious sects.
That said, I suspect the most likely origin is that ever popular "extraordinary popular delusions and the madness of crowds."
Still, without denying that sympathetic mass hallucination nor the possible instigation of cultish groups starting dances as part of a response to the horrors of the day, a very long litany can be composed enumerating those horrors; there is something mysterious and powerful in dancing. I think of David dancing before the altar of God. I think of the liturgies of the Christian and Buddhist communities and how they can so easily be seen as sacred dances. Sufis engage in sacred dances. I started listing, but almost all traditions have sacred dances.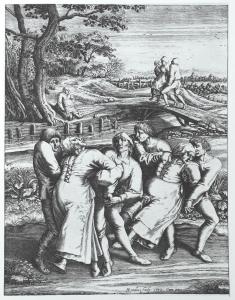 Not all. I was raised in a spiritual tradition that denied the body and forbad dancing. The old joke was that they didn't approve of sex because it might lead to dancing. It was, I find, a wounding thing. And, in my adolescence, I would find myself when alone pulled, called, I don't know the word, into my own private dances. A small private corrective.
Since then I've found interesting lists of different kinds of dances associated with spirituality. To name a couple. Praise dances, which I feel is what David was about and what I felt called into in adolescence. Ritual dances, like when a Zen priest makes an incense offering during the recitation of sacred texts. And, meditative dance, which again I find connected to my adolescent experience, a practice of embodiment. Or, the Dances of Universal Peace that have arisen within the Inayat Khan school and first presented by the San Francisco Sufi Samuel Lewis.
My bottom line take away.
Dance.
Dance before the lord of song. In private. Together with others. In a learned liturgy. Or, spontaneously. Find how the mysteries and your body are joined in your breath and your breath sings you into a dance where there is not one, not two.
Dancing. At once the most obvious and gross in the material sense, and the most subtle of the ways we can bring body and heart together.
So. An invitation on this day…