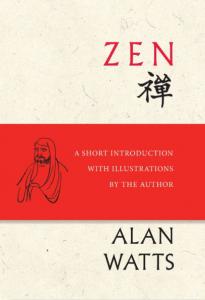 The very generous folk at New World Library have just gifted me with a copy of Zen: A Short Introduction With Illustrations by the Author.
I guess its one of the perks that come when someone gets confused for a moment and thinks I might be an "Influencer" in the Zen Buddhist world.
I was pleased to get it. My feelings about Alan Watts shift like the tides and currently my positive feelings are in full flood.
In some ways this small volume is an artifact of an earlier age. Watts wrote it in 1947. So, that was nine years after his first book length exploration, the Spirit of Zen, the same year as what I consider his most important spiritual book, Behold the Spirit, an exploration of mystical Christianity, and a decade before his best selling Way of Zen.
The book is provided with a more than excellent preface by the contemporary Rinzai priest Shinge Roko Sherry Chayat. She situates it within his evolving spiritual life and provided some important insights for anyone who thinks about Alan Watts and his contributions to our contemporary spiritual lives. Frankly, if you were to purchase the book for that essay alone, I think it worth the cost.
This reprint is a handsome hardcover. Small, only 79 pages and that includes a short bio of the author.
As with any such early efforts Zen has a number of small errors of fact. And, it is very much Alan Watts with all the good and ill that comes with it. That said, it really isn't a bad first book for someone inquiring about the why of Zen. If not so much a book about the details of practice.
Me. I really, really enjoyed it.
Perhaps you will, as well…