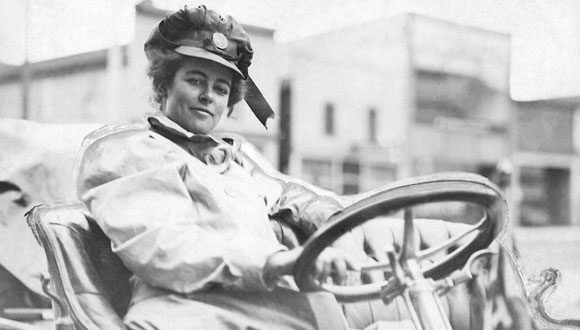 In 1908 John Ramsey, a United States congressman purchased a Maxwell runabout for his 21 year-old wife, Alice.
She took to the automobile like ducks proverbially take to water. In the same year she signed up for an endurance driving contest. While I'm not sure how she placed in that drive, she impressed a lot of people. Including representatives of the Maxwell company.
In the following year sponsored by the auto company Alice Ramsey undertook to drive across the country. She was accompanied by three women companions, two were her sisters-in-law, the other a friend. None of them, it should be noted, could drive.
They started on the 9th of June in Manhattan. She was 22.
According to Wikipedia "Over the course of the drive, Ramsey changed 11 tires, cleaned the spark plugs, repaired a broken brake pedal and had to sleep in the car when it was stuck in mud.The women mostly navigated by using telephone poles, following the poles with more wires in hopes that they would lead to a town. Along the way, they crossed the trail of a manhunt for a killer in Nebraska, Ramsey received a case of bedbugs from a Wyoming hotel, and in Nevada they were surrounded by a Native American hunting party with bows and arrows drawn."
Finally, on this day, the 7th of August, 1909, the party arrived at their destination in San Francisco. The trip took 59 days.