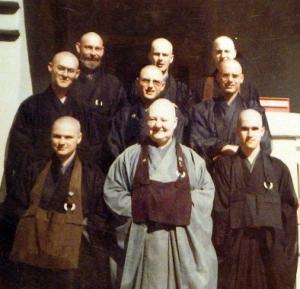 As is my wont, I have been thinking about the Soto Zen mission to North America and the West. A lot.
Part of what I see is that the Zen schools have absolutely arrived, including Soto. And that's kind of wonderful.
At the foundation are the Soto missions. In 1922, after establishing a temple in Honolulu, Hosen Isobe established the first Soto mission on North American soil in Los Angeles. From that foundation Zenshuji Soto Mission would continue to this day. In 1934 Isobe Roshi established Sokoji, a second mission in San Francisco.
From these missions various Soto priests took an interest in converts. Starting with Soyu Matsuoka in 1938, then Taizan Maezumi in 1956, and Shunryu Suzuki in 1958. Each would arrive to serve the Japanese missions, and from them begin to teach people outside the Japanese descent enclaves. The organizations that flowed from these teachers, and after them Dainin Katagiri, Kobun Chino Otogawa, Houn Jiyu Kennett, and a small but steady stream of priests and teachers would begin the process of spreading Soto lineages in North America and the West.
Critical among that early band is Taizan Maezumi who brought the reformed koan curriculum with him. Otherwise it would mainly be transmitted in lay lines that had broken with the Soto sect. Although there would be a steady cross fertilization with these lineages, as well. I am a product of that meeting.
Bottom line, the situation on the ground today is complex. The Sotoshu has a clear mission, with several temples. However, they have tended to serve nearly exclusively the Japanese descent community. Dr Martin Luther King Jr once observed how Sunday at 11 o'clock in the morning was the most segregated hour of the week. It is my observation that the cultural aspects of religion drive a divide that is extremely harmful, and yet, extremely strong. At this moment in time the fact on the ground is that the Japanese and Japanese descent temples and the convert (mostly, although not exclusively of European descent) communities meet and practice in parallel.
As to our North American Soto specifically. Priests with a strong interest in converts have tended to move on to found independent temples. A number of clergy in these independent descent organizations have maintained formal connections with the. Sotoshu, but not a majority.
Facile assessments and judgements may make people feel superior. Addressing the divide as a real issue that requires humility on many parts. I believe we need to accept there will be parallel institutions, but if they're engage with that humility and care there can be ever closer alliances, and who knows where such cross-fertilizing and genuine care can take us?
All of this has had critical consequences. Training standards among the converts have not been even. In fact the differing needs of the Japanese mission and the convert communities and what preparations are actually needed here have only begun to clarify. But I am optimistic. Missionary religions like Buddhism always find ways of adapting to their new homes. I recently saw how wildly different in Thailand and Bhutan. So, of course, new encounters, new needs. And, as I noted, we are beginning to see the specific needs of our emerging North American Soto.
Out of this I identify five challenges we need to address for our expression of the great way to flourish.
And with that I share them here in order to facilitate a conversation.
We stand within the Soto stream of Zen. We consider Dogen & Keizan central thinkers in the articulation of the Zen dharma. For a start I think it critical to assert our place within the Soto stream. And, more specifically, our indebtedness to the Soto institutions of Japan. We need to do this while noticing how we've shifted, and to attempt to find ways to dialogue with the Japanese church and its representatives here in North America. Also we need to embrace the wisdom of the great Soto teachers Eihei Dogen and Keizan Jokin as foundational. But we need to see them as central thinkers and teachers, while trying hard to avoid hardening their teachings into a form of unassailable scripture.
We transmit the reformed koan curriculum first developed out of the Hakuin Takujo system by the Soto master Daiun Sogaku Harada. While we do not require all priests and teachers to teach with koans, we believe koan introspection a distinctive part of our community's offerings. We're already seeing a recapitulation of the classic fault lines within Zen writ large, between those who emphasize awakening and koan introspection and those who emphasize our original awakening and the disciplines of just sitting. The tension appears natural. But, we can avoid the splits that have occurred in the past, if we're willing to bow to each other, and seek common ground. There absolutely has to be a place for koan introspection within our Western and North American Soto. We're already here. We need to try hard to keep the family together.
We treasure the classic monastic formation for priests captured in the ango system. However, we find we can achieve priest formation based in extensive retreat (sesshin days) and especially with long term engagement within our koan curriculum. And therefore, while encouraged, we do not require ango as part of our hard requirements for those who are called into a priestly life. This is going to be a critical conversation as we go forward. Zen was formed within a monastic context. And, even in Japan where a temple system with a non-celibate priest tradition has arisen, monastic formation has been seen as critical. The question for us here in the West is to ask, is this true? I believe it is a good thing, but it is not essential to maintain rigor and the formation of authentic guides, teachers, and priests. A profound intimacy can occur through retreats over time. By reclaiming koan introspection we also open additional means of holding our practice deeply without requiring extended periods in a monastery.
We count lay practice as fully sufficient to achieve the wise heart. And offer full dharma transmission to lay people for whom that seems appropriate. From its beginnings there have been advanced Zen practitioners and lay Zen masters. An unfortunate side effect of the evolution of Zen in Japan was the collapsing of dharma transmission into the forms of priestly ordination. The forms themselves are easily untangled. We need simply to do this. I believe it is critical to any healthy establishment of Soto in the West.
We seek ways to bring the Soto style to the West, cautiously adapting the liturgical forms to our contemporary needs. We are committed to creating living communities, where we can support one another, practice in the ways appropriate to the particular conditions of our lives, raise our children, live, and when the time comes, to die. This is the bottom line. We are in danger of Zen becoming like a spiritual gym, a place you go to practice, but which is otherwise unconnected to life. What Zen offers is a full life. We need to attend to developing communities where we are all welcome at whatever place we are in our lives. We need especially to pay attention to religious education. But, also to making the rites of religion beyond Zen meditation accessible to all of us. We need to reclaim a culture of awakening, for ourselves, our children, and this poor suffering world.
Respectfully submitted,
Myoun
Reverend James Myoun Ford