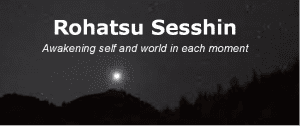 Join Us for An Intensive Zen Meditation Retreat, adapted for non-residential attendance.
Thursday, December 5 through Sunday, December 8
University Unitarian Church, 6556 – 35th Ave NE, Seattle WA 98155
In the Zen tradition, December calls us to steadily intensify practice in daily life, inspired by the Buddha's awakening together with the world and all beings, upon seeing the morning star on the eighth day of the twelfth month (Rohatsu). The Zen Practice Groups of University Unitarian Church and Woodinville UU Church invite you to join them.
Please review the details below, then click here to register.
---
Sesshin is an opportunity to practice wholeheartedly and deepen your understanding of the dharma. — James Ford
Please register on-line through University Unitarian Church, which offers the option to pay by credit card. If you wish to pay by check or in an amount other than the standard registration fees shown during on-line registration, please comment "I will pay at the door" when you register, and bring to the event either cash or a check made out to UUC.
Please review the links below for additional information. Still have questions? Email Janine Larsen or call (206) 454-7711.
Click below for: