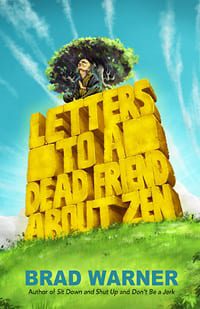 Letters to a Dead Friend About Zen: A Review
James Ishmael Ford
A while back I was asked if I wanted a review copy of Brad Warner's new book. I was intrigued with the title and responded that while I was slammed for time, if they were willing to wait, I would read it. And, as is my policy, I would only write a review if I could honestly endorse the book.
It took a while to get to it. I'm glad I did. And, yes, I endorse it.
Brad Warner can on occasion be annoying. He tends to think there are only three Zen teachers who are worth noticing, Dogen, his master Guido Nishijima, and, well, himself. For those wondering, there are others worth checking out. That said, he brings a unique, and I feel, important voice to our contemporary conversation about Zen and its place in our Western cultures.
Warner broke onto the Western Zen scene in 2003 with Hardcore Zen. At the time I described it as Zen in a full shout. His punk sensibilities and asides in the general direction of Godzilla and the subtilties of the punk rock scene provided, I felt, a perfect counter point to a rather conservative presentation of Soto Zen, or, at least the "Zen without toys" zazen-only school of Soto Zen.
Six more books would follow Hardcore Zen.
Letters to a Dead Friend About Zen is his eighth book.
I think it is his best.
Letters is cast as a series of letters saying things that he wished he had said to his friend Marky Moon. Marky is in fact a composite character. On the one hand of two people he knows, one who has died and the other very much alive. While on the other hand the character is you and me. The settings in the background of his ruminations are massaged out of his actual experiences, but in fact more belong to the dream realms than the world tracked in newspapers and diaries.
A fair amount of what we encounter is also explored in his earlier books. It includes da lot of autobiographical material. As a writer who also tries to share Zen out of my own experience, I find that repetitive part inevitable. And, it works. It's all is gathered together as his "Zen 101."
He covers the basics of Zen teachings in his now trademarked smart ass style. Although it has tempered enough some with the years. I continue to believe he is nearly uniquely accessible for people cannot imagine themselves caught up in an actual honest to God (or Buddha) religion. From where I sit it feels he's gradually moved in a slightly more sympathetic direction to those other aspects of Zen than Zen's primary meditation discipline, shiktantaza. Which is good. Still, he continues to be insistent that it isn't religion.
That said, perhaps of course, Warner's focus remains on shikantaza.
He does touch upon koans, the other great meditative discipline of Zen. In the past Warner has been pretty unambiguously negative about koan introspection. And, it's clear he's not trained in them in the manner someone in either the Rinzai or Daiun Sogaku Harada's reformed Soto koan curricula has. That said his chapter is good. It reflects someone who has genuinely devoted themselves to the great matter, and who has not stopped on his way.
Brad Warner brings genuine insight to the matter.
Along the way Warner offers a bit of counsel about various things, including warnings about drugs and the problems in sorting out the kernel of Zen and its Asian cultural origins. I thought his drug comments pretty straight on. The religion/culture thing is complicated, and I thought he gave it a pretty good go, as well. His noting how crazy wisdom is more likely crazy than wisdom is some important advice.
Warner was raised in a liminal period between Boomers and Generation X. His voice continues to be pretty pure X, if an X that is moving into middle age. Although it appears he continues to live more or less as a grad student with a dash of Japanese style Zen monastic. His interests outside of Zen continue to be rock and roll and Godzilla. Which I find kind of comforting. But he brings a more mature voice than with Hardcore. It reflects his continuing commitment to the great project.
Here's the bottom line of this book for me. Letters to a Dead Friend About Zen is a good book. It's particularly good as an introduction to Zen for younger readers or anyone who has a longing for something deeper but can't abide the thought of religion. It might be just the right book for someone tottering
If that's you, this is a really good book. If not, perhaps you know the person who needs it.
Letters to a Dead Friend About Zen, Brad Warner, 2019, New World Library, Novato