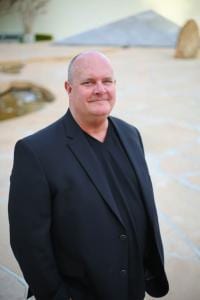 SURFING THE LIMINAL
A Dharma Talk for Therapists, Zen Practitioners, & Anyone Hoping to be Helpful
by
Chris Hoff
Senior Dharma Teacher
Empty Moon Zen Collective
To inform this talk I want to share about a couple of things I read this week.
But before I get there, I too like most others, am in quarantine. I'm not sure how long this will last. And like many others, in an effort to find something to do that isn't staring into one of the several glass screens in my home, I found myself this week, thinking this would be a good time to clean my office. I mean really clean my office.
This leads me to my first reading, Kyle Chayka's recent book, The Longing for Less: Living with Minimalism, which is a new survey of the minimalism of our moment. In Chayka's book he starts by exposing how folks like me, coming of age in the U.S., are particularly vulnerable to the charms of minimalism, linking it to the powers of self-definition and starting over and how we acquired the idea if we just sort through our homes or listen to a podcast, we are well on our way to  becoming new people, unburned by the past.
He writes how we have twisted the idea of simplicity as something providing a kind of "psychological hygiene," and how minimalism could be considered a new therapy, where we no longer depend on the accumulation of stuff for happiness, but craft new preferred identities, by sweeping our floors.
Students of Zen might be familiar with these sorts of traps.
In this thorough and enlightening new book, Chayka traces the west's obsession with minimalism, exposes its (often misunderstood) roots via minimalism's history and influence in art, music, thought, and aesthetics. He does this by breaking out minimalism into four common qualities, Reduction, Emptiness, Silence and Shadow.
Reduction, you might recognize as the Marie Kondo pursuit of simplicity. Here Chayka is critical of Kondo's rise, and her one-size-fits-all approach that he describes as erasing personality and quirkiness, and as ultimately boring and oppressive. It is in the Reduction section where he begins to make the argument that threads through the whole of the book, that the practitioners of minimalism that most interest him are those, that instead of promoting simple answers, lean into the more complex questions of how to live in our modern world.
The most interesting section however, is his section on Shadow. Here he looks to Japan, Japanese Buddhism and Japanese culture specifically, to show how these have become an easy projection, for those of us from the West looking for a readymade aesthetic of austerity.
In this effort the author travels to Japan to explore the art and literature of Japanese Buddhism, and traces the evolution of the union of Japan and minimalism. It is in this union, I suppose, where everything from simple furniture to a plain black t-shirt became, "so Zen man."
Longing for Less is a book for our time, a time of plague and disruption of our constant busyness. A time when minimalism is popular around the world because it, Chayka writes, reacts against a condition of terminal dissatisfaction with material culture, and social crisis. That the popular minimalist aesthetic we find everywhere now is a symptom of our growing anxiety, and a search for something more stable in a precarious world.
But ultimately Chayka believes we are doing minimalism wrong. That minimalism is a practice that takes place over time, and makes simple things more complicated, not the other way around.
Something I think any Zen student can get behind.
So, this urge to clean my office. I mean really clean my office. May just be me suffering from an abstract desire for a different and simpler world. A world, that will always be beyond my reach.
The second thing I read this week was by Psychoanalyst Jamieson Webster. Now I am a therapist, but not of the psychoanalytic persuasion. I do however like to stay up on the field and Jamieson Webster is arguably one of the leading voices of contemporary psychoanalysis.
The piece I read was released this week in the New York Review of Books and was titled Psychoanalysis in Time of Plague. It was a well written piece all through, but what stood out for me was where she wrote the following;
I didn't want to add to the plague of language that followed on the heels of the coronavirus, pouring out of our TVs and computers into our shelters. None of it, I wash my hands—not what was bland, or comforting, or desensitizing, or informative, or violent. I lashed out at my fellow psychoanalysts in a letter: at the very least I would imagine that you wouldn't be the purveyors of certainty or mental health banalities or pyrrhic victories, I accused—please not another post making claims about what people need right now, even if the impulse is so very human-all-too-human.
"Please not another post of what people need right now." I have an active presence on social media, and many who I follow or am friends with are psychotherapists or students of the way. And many of these folks, have too fallen victim to the "human-all-too-human" impulse to traffic in certainty, cheerleading, and mental health banalities.
Now I can more readily understand my therapist friends falling prey to this. But shouldn't Zen folks know better? Doesn't Zen offer something that goes beyond these impulses? Aren't we all about the great matter of life and death?
There is an analogy in recovery where they say that entering into recovery is like driving around in a station wagon in which you have spent the last several hundred miles throwing all your baggage, fast food wrappers, various trash into the back, and then suddenly hit the brakes, and all that stuff comes flying forward into your lap.
COVID-19 is the brakes on our collective station wagon.
People are struggling with the imposed isolation and lack of control, life has been disrupted, People have died, the fear is palpable. And many of us want to be helpful, to care for others, to live out our Bodhisattva Vow in this moment.
But is protecting people from this experience, the real experience of the great matter of life and death, the best course of action? Is this rush to move through this experience, with all sorts of helpful advice, really for them, or for us?
Tomorrow is Easter and I think I would be remiss if I didn't recognize it in this talk, So here is a quote on this matter from poet and theologian Pádraig Ó Tuama;
"The fourth gospel tells of Jesus arriving in the room where the disciples are gathered, full of fear, on Easter Sunday. He does not chide or admonish; instead he says 'peace be with you', which in the Aramaic of his day, was simply a greeting. To people locked in a room of fear he said 'Hello', welcoming them to a place of deep encounter: encounter with themselves, with their fear, with each other and with the incarnate one in their midst."
Even Jesus got it.
This talk was quickly titled Surfing the Liminal. But for a Zen talk it probably should have been titled Surfing the Groundlessness, or better yet, Zen and the Art of Not Giving Advice in The Time of Plague.
I understand and sympathize with the all-too-human urge to reach for certainty in these times of uncertainty, for ground in the groundlessness. But would we be stealing away an opportunity in that inclination.
Like I said this talk was quickly titled Surfing the Liminal, so I move toward ending it with a quote on liminal space by the Franciscan monk Richard Rohr, if it's more comfortable you can replace Liminal Space with Groundlessness. Here's the quote:
Where we are betwixt and between the familiar and the completely unknown. There alone is our old world left behind, while we are not yet sure of the new existence. That's a good space where genuine newness can begin. Get there often and stay as long as you can by whatever means possible…This is the sacred space where the old world is able to fall apart, and a bigger world is revealed. If we don't encounter liminal space in our lives, we start idealizing normalcy.
So in closing, can our Bodhisattva vow include sitting on our helping hands? Sitting with ourselves, and others, in this intimate encounter with uncertainty and groundlessness, or better yet, the great matter of life and death, without trying to save people from this experience?
Can we trust in the bigger revealing?
After this talk, I still plan to clean my office. Really clean my office. Without expectation of a new identity or a more comfortable life. And I will also resist the all-too-human urge to tell you what I think you should do in these challenging times. But if you want to talk, I am here to listen.
Thank you.