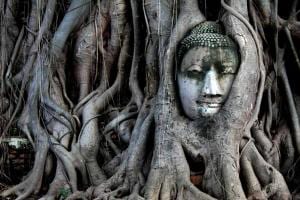 We're in a rather mysterious season.
Yesterday Buddhists who use the Gregorian Calendar observed the Buddha's birth. With dusk the Jewish community began Passover. And today is Maundy Thursday. Of course against all this we are in the midst of the Corona-19 pandemic. 
A good time to reflect.
Where does it all come from? To where does it all go? What is meaning and meaninglessness?
These questions call a poem out of my heart.
I share it knowing our offerings however meager are nonetheless offerings…
This is no mere materialism
(we need nothing extra.)
The universe is wondrous and alive.
That is enough.
It is a great dance.
That is enough.
All things creating all things.
Intimate.
Birthing. Living. Suffering. Loving. Dying.
Intimate.
So sad, so lovely.
Does it need to be known?
I don't think so.
But.
And.
Gloriously.
For no good reason it is known.
By us…
(And who knows who others in this vast universe…)
For us
The mystery of knowing this reality emerges from the human brain.
Three pounds or so of flesh.
Reveals the spirit of all things…
And so
For no reason beyond the blood coursing through our veins…
Feeling the ocean of it all…
Knowing
and so
And so
Singing praises…
Glory…
Gloria…
Sacred? Profane?
In fact there is no difference…
And
That is enough…