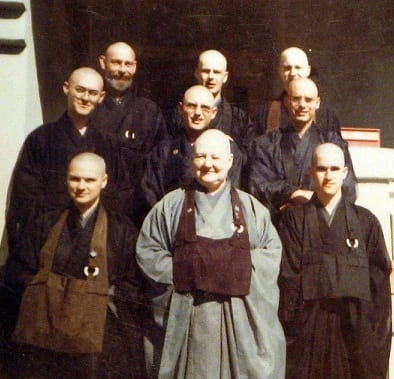 FIFTY YEARS A ZEN PRIEST
This world of dew
Is a world of dew,
And yet, and yet
Issa
Fifty years ago, today, on the 5th of July 1970, I received shukke tokudo, also called unsui tokudo, ordination as a novice Soto Zen Buddhist priest in Oakland, California, from the Soto Zen priest Houn Jiyu Kennett.
Peggy Teresa Nancy Kennett was born in Sussex, England, in 1924. She studied medieval music at Durham University and later at Trinity College of Music in London. She was attracted to the Established church and wanted to ordain. But the misogyny of the times and with that an absolute bar on women ordaining turned her gaze in other directions.
In 1954, when she was thirty years old, she joined the London Buddhist Society led by Christmas Humphries. At first she focused her studies on Theravada Buddhism, reading everything she could as well as meeting different teachers and monastics that passed through the society. But after meeting a number of visiting scholars and teachers of the Mahayana, including D. T. Suzuki, her focus shifted to Zen.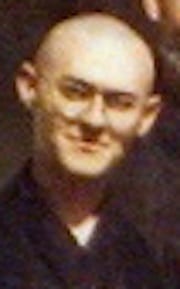 In 1960, Koho Keido Chisan, abbot of Sojiji, one of the two principal training temples of the Soto school in Japan, visited as part of a tour of America and Europe. Peggy was put in charge of arranging the London part of his trip. He was taken with the now thirty-six year old Zen enthusiast, marking her intelligence as well as her competence. And he told her if she wanted to come to Japan, he would be happy to be her teacher.
It took two years to get her affairs in order. Then in 1962, she sailed to Japan. Interestingly, she paused in Malaysia where she was ordained a novice in the Chinese sangha by the Venerable Seck Kim Seng. There is actually a question whether this was as a novice or in fact a full Bhikshhuni ordination. Whatever, this was simply an interesting pause.
She soon arrived in Japan where she studied both with the abbot, and as her principal teacher his assistant Suigan Yogo. Yogo Roshi would eventually become the abbot of Sojiji, himself. The following year she was fully ordained and received Dharma transmission from both of her teachers. Reverend Kennett continued training and eventually was installed as abbess of a country temple, Unpukuji, in Mie prefecture.
In 1969 she obtained a charter to start a temple in London. She returned with two Western disciples, Mokurai Cherlin and Myozen Delport, stopping in California. The plan was for her to stay briefly in San Francisco to learn more about the wild success of the Shunryu Suzuki's center. Once in California, and I imagine her thinking about London and England, where Roshi Kennett would always also be known as Peggy, and I wouldn't be surprised the climate played a part, and, whatever, she decided to stay.
Before long she and her two senior students moved from the Zen Center into a flat on Potrero Hill. There she announced she was receiving potential students.
And I became Kennett Roshi's first student in America. Although I feel it necessary to note that Josh Baron says it was he. However, I distinctly remember showing up on a Wednesday and he arriving the next day, on a Thursday. Some claim it was the other way around. But they're wrong.
I'd been practicing Zen for a couple of years. I'd received basic instruction in Zen meditation from Ananda Claude Dahlenberg, a priest with Shunryu Suzuki, and I'd been sitting regularly with another of Suzuki Roshi's priests, Mel Sojun Weitsman, at the Berkeley Zendo.
Somewhere along the line I decided I wanted to be a Zen priest. But I was young and callow and ill-educated. I'd dropped out of High School, joined the Marines, was discharged honorably enough, but early and without ever leaving California. I was working in a bookstore, smoking too much pot, and I had no sense of who I was, or what I really needed. San Francisco Zen Center, of which Berkeley was a branch at the time, didn't really offer a path of ordination, and I certainly wouldn't have been much of a candidate, if they had.
Kennett Roshi was happy to take me in. I spent every available moment at the little flat.
Before long she suggested my girlfriend and I move into the flat. We agreed. However, the roshi then insisted that we marry before we moved in. I felt trapped. I told my girlfriend I wanted to break up. She said she would kill herself. We married. Kennett Roshi officiated. And with that we moved into the temple.
My principal job with the nascent temple was to pay the rent. I left the bookstore in Oakland to become a shipping clerk at the San Francisco branch of Tiffany's Jewelry Store.
Practice was intense. I began to lose everything. I'd been counting my breath. The roshi ended that. She said, just sit. Privacy was gone. I was married, but we didn't have a private room. Time on my own or with my wife was gone. Somewhere along the line my hope ended. Then my doubt ended. Zazen. More zazen. Reading a bit. Lectures and classes. More zazen. It all drove me forward. It drove me inward. It focused everything on just sitting whenever possible.
The roshi then said she had to go to London to wind up her family affairs. She put her South African disciple Myozen Delport in charge, deciding to take Mokurai with her. If anything, the pressure of practice deepened under Myozen's leadership. About a month later the roshi called and said she would not be returning just with Mokurai.
We rented a house across the Bay in Oakland. I found a job there driving a delivery car for a small printing house. When the roshi returned she brought a dozen people with her. Around that time we formally organized ourselves as the Zen Mission Society.
And it was there at the Oakland monastery, on the 5th of July 1970, along with five others. I was ordained an unsui, a "clouds and water" person, a novice Zen priest.
It was a tad shy of two weeks before I turned twenty-one.
Today. Fifty years later.
All I can think of is that poem by Ryokan.
Last year, a foolish monk.
This year, no change.
From the photo: In the back row from left to right Aubrey Thornton, Mark Daiji Strathern, Mokurai Edward Cherlin. In the middle row James Etsujo (later Myoun) Ford, Joshua Jitsudo Baran and Lance Merritt. In the front row Myozen Delport, Houn Jiyu Kennett & Steve Kozan Beck.