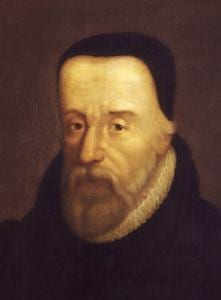 The lovely and good folk of the Episcopal church celebrate the life of William Tyndale on this day, the 6th of October.
Normally such feast days are observed on the anniversary of the death of the person to be honored. In this case it is an approximation, as we're only sure he died early in the month, in 1536. Having briefly enjoyed the favor of King Henry VIII for writing a justification for monarchs being the head of national churches, he was hunted down and executed for condemning Henry's first divorce.
He deserves to be remembered by all English speaking people for both his work as a translator and his many coinage of phrases we use to this day.
His translation of the Hebrew and Greek bible are considered the strong foundation of the King James' version. According to the scholar Joan Bridgman, cited in Wikipedia, "Although the Authorised King James Version is ostensibly the production of a learned committee of churchmen, it is mostly cribbed from Tyndale with some reworking of his translation." According to Brian Moynahan, whose biography William Tyndale: If God Spare my Life provides much of the backbone of the Wikipedia article, "Tyndale's words account for 84% of the New Testament and for 75.8% of the Old Testament books that he translated."
Along the way he introduced words such as "atonement" which he probably didn't coin, but which he assured would become a part of the English Bible. And he did coin "Passover."
The Wikipedia article lists seventeen phrases he composed out of Hebrew or Greek phrases that are now our common currency:
my brother's keeper
knock and it shall be opened unto you
a moment in time

fashion not yourselves to the world
seek and ye shall find
ask and it shall be given you
judge not that ye be not judged
the word of God which liveth and lasteth forever
let there be light
the salt of the earth
a law unto themselves
it came to pass
the signs of the times
filthy lucre
the spirit is willing, but the flesh is weak (which is like Luther's translation of Matthew 26,41: der Geist ist willig, aber das Fleisch ist schwach; Wycliffe for example translated it with: for the spirit is ready, but the flesh is sick.)
live, move and have our being
So, an offering of some incense, or, if you rather, a lift of your cup.
Thank you, William, and your golden tongue. Some of my best turns of phrase come from your pen…