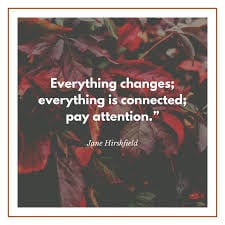 WHAT ROUGH BEAST
The Zen Priest Reflects on the New Year, And Makes Some Resolutions
James Ishmael Ford
The year 2020, of lamentable memory, is now gone.
Happy New Year, 2021!
And. New Years are traditionally times to take stock and maybe make some resolutions. In that spirit, I have been considering this moment.
Of course, thinking about all those memes on social media, most all pretty much cursing this past year, what is most obvious is how it is all such a mess. That mess in all its specificity brings to mind, at least for me, William Butler Yeats.
Turning and turning in the widening gyre
The falcon cannot hear the falconer;
Things fall apart; the centre cannot hold;
Mere anarchy is loosed upon the world,
The blood-dimmed tide is loosed, and everywhere
The ceremony of innocence is drowned;
The best lack all conviction, while the worst
Are full of passionate intensity.
Surely some revelation is at hand;
Surely the Second Coming is at hand.
The Second Coming! Hardly are those words out
When a vast image out of Spiritus Mundi
Troubles my sight: a waste of desert sand;
A shape with lion body and the head of a man,
A gaze blank and pitiless as the sun,
Is moving its slow thighs, while all about it
Wind shadows of the indignant desert birds.
The darkness drops again but now I know
That twenty centuries of stony sleep
Were vexed to nightmare by a rocking cradle,
And what rough beast, its hour come round at last,
Slouches towards Bethlehem to be born?
What rough beast, indeed. It is past easy to romance despair. And watching the world and our own hearts, certainly my heart, its easy, it's reasonable to see it all falling apart, and with that witnessing demon lords birthing. And chaos coming.
Now, there are elements of promise, hints of hope. Or, at least of change. In eighteen days, despite the bluster, and the threats, the shouting, and the lies, America will have a new president. But many threats, really more than threats remain with us. I don't need to rehearse the litany of ills facing this country and the world. But with all that, a question. In the last moment, who wins?
It is easy to despair. But.
Let's think about what our Zen project brings to this mess.
Zen Buddhism locates the individual, that is you and me within the great play of causality. This place, here, where the consequences of our intentions and actions play out, very much shape who each of us are. And, and this is important, in varying degree, our individual lives also absolutely play out into the larger web. We are shaped by the world. But also, we shape this world.
The Zen way, the intimate way, is a way of liberation. It is a path that breaks the chains that bind us to constant repetition, to the downward spiral, to birthing monsters. It is a way that heals wounds, that binds up the broken, that brings a balm of possibility, and the birthing of hope into this world.
So, to remind us all.
This path of liberation emerges as a three-fold perspective. It starts with our actually understanding, bones and marrow the truth of nonduality. Reality is not two. Of course, we also learn how it is not one. Our personal liberation, and what we can bring to the world births as we see into this great secret of our hearts. Our way also brings with it some amazing practices of intimacy. They help us find the deep places where we can discover for ourselves like tasting water and knowing intimately whether it is cool or warm. And, last, but critical, so critical. With the precepts we have a moral/ethical container. Holding ourselves within that container as some alchemical process, we create the conditions that help us to win the great victory.
The healing of the world. Nothing less.
So, there's today. Here. Now. I may have said this. Things do not look good.
The darkness drops again but now I know
That twenty centuries of stony sleep
Were vexed to nightmare by a rocking cradle,
And what rough beast, its hour come round at last,
Slouches towards Bethlehem to be born?
Yeats' song predicts something coming. And it feels frightening. And maybe it is. History suggests hard things ahead. But. We and the world are connected. And who and what we are shape this world.
We hold magic in our hands.
So, I think of that coming Bethlehem. Such an image. Such an evocation of human possibility. It is after all the story of a baby, of the most ordinary of all things. Becoming something. Through neglect and cruelty, one thing. Or with attention and love, something else.
Choices.
And so, the question remains. It hangs in the shadows of this moment. What rough beast slouches toward Bethlehem at this hour?
Choices we can make.
What will birth this year?
Choices we will make.
And with that. What will I choose? What will you choose? What will we choose?
Well, here's my resolution.
I need to throw myself on the pillow with regularity, and to bring the other disciplines that allow me to pay deep attention. And just as important, to get off the pillow regularly and to join with others. Ideally, others who do not agree with me in every detail. And to struggle together with the great vow of saving the many beings. What's that old line? Think globally, act locally. Never truer, I suspect than at this moment.
Bringing presence, and striving to see the family, and to act like everyone and everything is a relative. In each action. With every word.
As best I can.
Over. And over.
A lot appears to be hanging on it.
So. Over. And over again.
Until all of us birth into the pure land.
My New Year's Resolution.