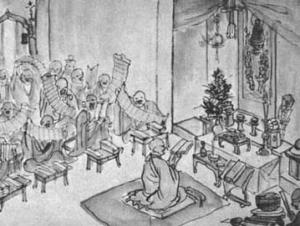 Every once in a while it's important to come up with a brief list of books about important subjects. None is more important to me than Zen. And now with the publication this week of a new and absolutely wonderful illustrated guide to Zen in the Soto tradition by Seigaku Amato, it seems a perfect moment to do so. Here I hope is a list of a handful of books that can give the reader a very good grounding in Zen Buddhism as it is practiced in North America.
The Complete Illustrated Guide to Zen Seigaku Amato
A delightful introduction to traditional Soto Zen practice in the West. Seigaku Amato introduces us to the intricacies of monastic and householder practice adapted into Western communities with humor, insight, and pictures?
Circle of the Way: A Concise History of Zen by Barbara O'Brien
Journalist and long-time Zen student Barbara O'Brien offers the only readable, concise, and yet comprehensive survey of Zen's history, the development of its teachings from the beginnings of Buddhism to the dawn of the Twenty-first century. She finds a genuine middle ground between an appreciation of the received tradition and the best of modern scholarship. A masterful accomplishment.
Moon in a Dewdrop: Writings of Master Dogen edited by Kazuaki Tanahashi
collecting and editing translations from a who's who of Zen scholarship, Kaz Tanahashi provides what has become the classic introduction to the writings of Eihei Dogen. The founder of Japanese Soto Zen, Dogen is considered one of the signal figures in the distillation of Zen's teachings.
Mind of Clover: Essays in Zen Buddhist Ethics Robert Aitken
Robert Aitken was the first American born Zen teacher to be ranked an equal among the first generation of Zen missionaries from East Asia. Several of his books count as classics, but Mind of Clover stands out for its clarity while introducing Zen's ethical precepts as an essential container of Zen practice.
Zen Mind, Beginner's Mind Shunryu Suzuki
D. T. Suzuki and Alan Watts introduced Zen to a Western audience. Shunryu Suzuki, no relationship to the scholar, was one of the first to show Westerners how to live Zen. He founded the San Francisco Zen Center as one of the first centers dedicated to offering authentic practice to Westerners. This book has become a beloved classic, arguably the first classic of American Zen.
And one more
Light Inside the Dark: Zen, Soul, and the Spiritual Life John Tarrant
John Tarrant a master koan teacher brings together Zen, classical mythology, and archetypal psychology, to invite a new understanding of soul and the inner life. Rich, dense, and inviting. An important example of the adaptation of Zen to Western culture.